Canadian Nuclear Laboratories (CNL) and Atomic Energy of Canada Limited (AECL) have broken ground on a new Science Collaboration Centre at Chalk River Laboratories in Ontario, Canada.
Scheduled for completion in the spring of 2023, the facility will serve as the central planning and collaboration space for CNL's science and technology programs. The new facility will also feature office space and meeting rooms, and host CNL's data center.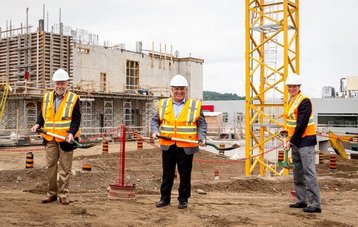 CNL is Canada's nuclear science and technology organization, while AECL is a federal Crown corporation responsible to enable nuclear science and technology.
The ground-breaking ceremony was joined by the Parliamentary Secretary to the Minister of Natural Resources, Marc Serré.
"Once complete, the Science Collaboration Centre will change the way we conduct work at CNL, providing us with a modern, flexible and sustainable collaboration center to plan and pursue our research," said Joe McBrearty, CNL's President and CEO. "It is also one of a handful of new buildings that will help transform the site into a 'smart campus,' which is at the center of our vision for the future of the Chalk River Laboratories."
AECL is investing $1.2 billion over ten years to renew the science and site supporting infrastructure at the Chalk River Laboratories. In addition to the Science Collaboration Centre, a new 2-story industrial-use support facility was recently inaugurated, a new site entrance building is nearing completion, and several science facilities have been opened in the last few years, including a brand new hydrogen laboratory complex, a new materials research laboratory, and a new tritium laboratory.
"The Science Collaboration Centre demonstrates how the Chalk River Laboratories are being transformed into a world-class, state-of-the-art nuclear science and technology campus," added Fred Dermarkar, President and CEO of AECL. "Not only are we investing in the future of science and innovation in Canada, but we are doing it responsibly by using sustainability as a driver for design and construction. This is the future of science, clean technologies and clean energy."
The Chalk River Laboratories opened in 1944 and housed the first nuclear reactor outside of the US. The site had two nuclear incidents during the 1950s due to a mechanical malfunction and fuel ruptures. In 2008 and 2009 there were also leaks of radioactive water, one leading to a reactor shutdown.
In 2015, CNL opened a new hydrogen laboratory complex, an investment of more than $55 million. In October of 2016, CNL opened the Harriet Brooks Building materials science laboratory that represents an investment of more than $100 million. CNL has also commissioned a new Tritium Laboratory.