German startup Cloud&Heat has launched a liquid-cooled supercomputer in a shipping container, available in 500kW and 1MW options, and announced it will be selling its products in the UK.
The Beast, claimed to be "the world's most energy efficient supercomputer," can hold up to 17,280 CPU cores or up to 1,056 GPU nodes in a standard 20ft shipping container, using Cloud&Heat's hot water cooling, hooked up to a heat recovery system. It arrives as Cloud&Heat makes its UK debut, at the Cloud Expo Europe event in London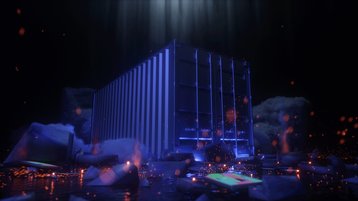 "We have solved the edge computing challenges in a very sustainable way," the founder of Cloud&Heat, Dr Jens Struckmeier, told DCD. "We provide cooling, with 60°C/140°F output, and we can go even higher, to 70°C/158°F. We have a solution that works in a desert, without any traditional air conditioning units, generating hot water, and without the need to consumer fresh water."
Cloud&Heat's cooling system uses a closed circuit to remove heat, and can integrate with liquid cooling systems used by vendors including Dell, Lenovo, Supermicro and Fujitsu, as well as CoolIT, a Canadian liquid cooling startup which partners with precision cooling firm Stulz, which has also invested in Cloud&Heat.
Liquid cooling allows a higher energy density, and The Beast can deliver more than 80kW per rack, so the six racks in a 20ft shipping container can support 500kW. Struckmeier promises that a 40ft unit could therefore contain up to 1MW of supercomputing power.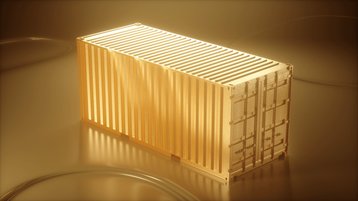 Options
The benefits of liquid cooling include the ability to offer the waste heat to other users, such as the district heating systems featured in Scandinavian cities such as Stockholm. It is also a lot more quiet than air cooling. "It's not just energy saving, there is no waste noise in the environment," he said. "Scandinavians in particular have asked for a reduction in noise."
Those not ready for liquid cooling can put lower-density conventional air-cooled racks in the container; the liquid cooling system will remove the heat captured by the air-cooling. While this won't reach the same temperatures as full liquid cooling, the temperature can be boosted with heat pumps, and this can meet the requirement for heat recovery increasingly demanded in Sweden or Denmark., said Struckmeier.
This two-stage cooling set-up obviously increases cost and overheads, but the unit is future-proofed for the addition of full liquid cooling in future.
In another option, some customers won't need the shipping container, Struckmeier said: Cloud&Heat can also deliver the six racks and liquid cooling infrastructure without the container, for installation in a data center or other building.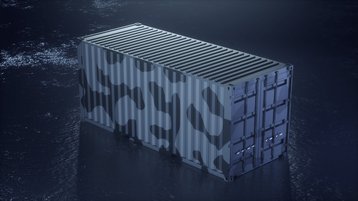 Despite his willingness to talk liquid cooling to us, he made it clear that liquid cooling is not the main selling point for The Beast: "Our unique selling proposition is energy density. We can address massive computing loads."
"The Beast" will be available in three colors: camouflage, gold and airbrush, and an illustrative display model is in London at Cloud Expo.
Meanwhile, the company has opened an office in the US, in Silicon Valley.