French startup Qarnot, which develops specialized servers intended to be deployed in commercial and residential properties to double up as heaters, has announced it would change its CPU suppliers.
The company previously built its systems around an unspecified Intel i7 chip, but will now switch to AMD's recently launched Ryzen PRO, saying it produces as much heat while providing twice as many cores.
Qarnot plans to deploy Ryzen 5 PRO 1500 CPUs as part of a social housing project in Bordeaux, France, sometime next year.
They're red hot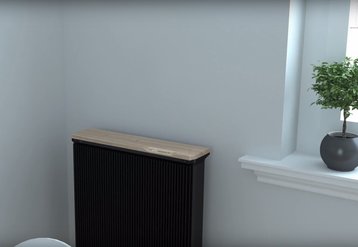 Established in 2010, Qarnot develops a server called Q.rad, designed to be placed in homes and offices. The system is connected to the Internet and receives workloads from the company's in-house computing platform. Customers simply offer their space, getting free heat in return.
"Our main business at Qarnot is to provide a cloud computing platform which is able to send heavy workloads to any kind of computer, server or heater," Hélène Legay, UK business developer at Qarnot, explained in a blog post.
"We mainly target two industries with massive computing power needs: movie studios for 3D rendering and VFX, and banks for risk analysis. For example, BNP Paribas run 5 percent of their financial risk analysis on our platform."
Most of the heat produced by Q.rad is actually made by its three embedded CPUs, making them the most important component of the system. Historically, AMD's chips have been known known to run hotter than their counterparts from Intel – placing higher demands on cooling in exchange for higher clock speeds - and the latest crop of chips is no exception.
The Ryzen PRO is not originally intended for servers – that honor belongs to another recently launched product line, Epyc. Instead, this is a line-up of enterprise chips for workstation –class systems, maxing out at eight cores and 16 threads.
According to Qarnot, internal tests have shown a 30 to 45 percent performance improvement when comparing Ryzen 5 PRO to the Intel i7 chips previously used by the company. The new CPUs also offer advanced security features – like Transparent Secure Memory Encryption that enables OS-independent cryptography.
"Every processor heats. What matters is the Thermal Design Power, and Ryzen Pro is producing the same heat as the equivalent Intel CPUs we were using while providing twice as many cores. A good fit for our customers that use core count to evaluate their computing needs," Legay wrote.
"In the meantime, we are considering AMD's CPUs and GPUs, as we are working on new products, including a boiler for domestic hot water and swimming pool heating solutions."