Network giant Cisco continued its software defined network (SDN) tightrope walk, with upgrades to its Nexus switch systems that privilege its own Application Centric Infastructure (ACI) while nodding towards more open SDN approaches.
At this week's Cisco Live customer event, Cisco has announced a new version of ACI for its Nexus 9000 switches, along with a new release of the NX-OS operating system which runs on Nexus 3000 and 9000 switches, and new Nexus 3000 switches for scale-out environments. The company says that users are enthusiastically adopting the latest Nexus switches, along with the ACI software that they run - and attrition by more open hardware is slow. It also supports the BGP EVPN standard, and links to OpenStack, to placate the open movement.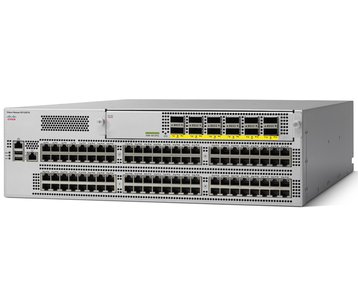 Heading off the open option
SDN separates applications from hardware in the network, enabling network-functions virtualization (NFV) and allowing users to put together hardware and software from different vendors.
While vendors such as Arista and Juniper are making dents in Cisco's business, low cost commodity "white box" switch makers are another threat.
Cisco's response is to offer its own version of SDN, called ACI, which attempts to implement what SDN promises, within a couple of ASICs (application specific integrated circuits).
It has cut its traditional margins somewhat, and claims this proprietary hardware version of SDN offers better features than those available in open SDN. Whether or not that is true, at this stage in the game it's still certainly very likely that single-vendor ACI will be easier to put together than a multi-vendor SDN network. 
Cisco delivered the ACI-capable Nexus 9000 switches last year, and claims that it now has some 2,655 customers with Nexus switches capable of running ACI. Soime 585 of those are using the APIC (application policy infrastructure controller) software which means they are actually keen on ACI. 
A truer measure of its success so far is that Cisco's switch market share has not fallen as fast as some predicted. IT has kept its switch revenues at around $3.5 billion per quarter, with a hit on profits. 
Loyal Cisco customers say they have made savings through ACI - Symantec told Cisco Live that it expects a  five-year cumulative benefit of 441 percent ROI and to improve application development speed by 87 percent through ACI. 
The new version of Cisco's ACI  includes plenty of important additional features. It supports Microsoft Azure and System Center virtual network automation, and has "stretched fabric" support for multi-site installation. It can be used in disaster recovery setups where sites up to 150 kilometers apart are connected over DWDM, "pseudo wire" and 40G dark fiber. 
To make network admins' life easier, it has automated mapping and application deployment, and a simpler set of tools with heat maps, capacity planning and better troubleshooting. 
The new NX-OS operating system version is designed to encoruage third parties into Cisco's version of SDN: it includes third party DevOps automation tools, and a secure SDK to allow third party and custom application development natively on NX-OS.
The new Nexus 3200 top of rack switches for 10G/25G/40G/50G/100G cloud data centers will be available in the third quarter of 2015. The Nexus 3232C has 128 ports of 25Gb or 32 ports of 100Gb, the Nexus 3264Q has 64 ports of 40Gb. 
There is a new Cisco Virtual Topology System (VTS) - basically an overlay provisioning and management system for Nexus 2000 to Nexus 9000 switches, which supports the BGP EVPN control plane standard, and integrates with cloud management systems including OpenStack.