Cisco has named the successor to John Chambers as CEO,  it is Chuck Robbins, a 17-year Cisco 'lifer' presently leading the company's global sales and partner team.
There have been persistent but discreet rumors about Chambers' succession for some time given his age (65) and his comments about leaving the role to another man and heading for the golf course. However those who were prepared to comment had one thing in comment – they called the wrong man.
Rob Lloyd, who ran worldwide sales before Robbins and is presently president of development and sales, has been the front-runner from a betting-person's perspective. This was almost confirmed since the company has widely referred recently to Lloyd as it's 'number 2 man'.
Gary Moore, who joined the company in 2001 and became COO in 2011 was another favored internal candidate for the job.
The succession has a touch of Game of Thrones about it since Chambers has been 'leaving' his post for many years now, so much so that other heirs-apparent left the company, were side-lined or 'let go,' prompting insider-gossip that some were elbowed out in political in-fights. It just wasn't a good idea to declare your ambitions too early at Cisco.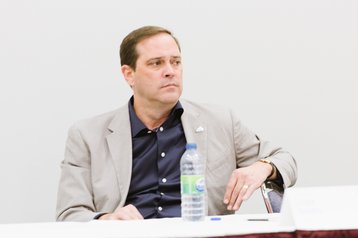 Robbins takes the Hot Seat at Cisco
Cisco has been going through bad times since 2010 when the company started a massive re-organisation that, to many outsiders looks as if it never finished.
The company has announced layoffs every year for the past four years. Interestingly while Gary Moore is on record as saying that annual layoffs: "…were not the right way to go…" it has shed 25,000 engineer jobs.
Morale at the company badly needs a shot of optimism. The company's dominance in corporate networking is under attack by software-defined networking (SDN) which looks like the way of the future and one which Cisco is finding it hard to come to terms with. This is a major strategic task for Robbins.