North American telecoms infrastructure development company Far North Digital and Finnish networks provider Cinia have signed a Memorandum of Understanding to build a 16,500km-long submarine fiber optic cable across the Arctic.
The $1.15 billion cable is planned to connect Japan, Norway, Finland, Ireland, Alaska, and the Canadian Arctic via the Northwest Passage. Development will be led by Alcatel Submarine Networks, with an expected launch in 2025.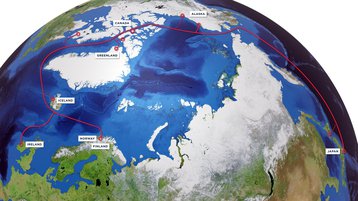 "This cable system is more than a way to speed and improve the security of telecommunications between nations, it is a bridge over the digital divide, providing Northern communities with better opportunities for sustainable self-determination through economic development, enhanced educational options, and improved access to healthcare," Guy Houser, chief technical officer of Far North Digital, said.
"Furthermore, it will serve as a platform that offers science a new and enhanced ability to conduct research into climate change."
Human-caused climate change is wreaking havoc around the world, including Northern communities. But some investors see opportunity in the Northwest Passage opening up as the ice retreats - hoping that the drastically reshaped world will allow for shorter shipping routes, cutting thousands of miles off journeys that currently go via the Panama or Suez canals.
While it is becoming an economically viable shipping route at the end of summers, others believe the Northern Sea Route along Russia's northern coastline will be the primary Arctic shipping route in a world ravaged by climate change.
Other issues exist: Canada claims sovereignty over the passage, while the US and others consider it to be international.