China has granted its first private 5G spectrum allocation in the country to the Commercial Aircraft Corporation of China (COMAC).
The awarding of the private 5G license will enable the state-owned aircraft company to widen the application of 5G and industrial Internet, reports China Daily.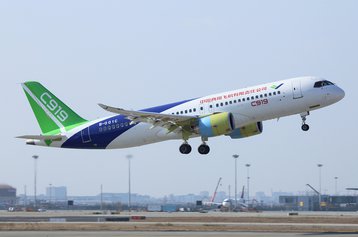 China's Ministry of Industry and Information Technology (MIIT) has granted COMAC the first corporate 5G private network license, with the award of the spectrum announced during the 2022 China 5G plus Industrial Internet Conference in Wuhan, Hubei province.
COMAC will use industrial wireless dedicated frequency bands 5.925-6.125MHz and 24.750-25.15GHz, which will enable higher speeds, faster connections, and lower latency.
COMAC is China's only domestic jet airline manufacturer and is famed for developing the C919, which is the country's first self-developed single-aisle passenger jet. COMAC was founded in 2008 and is a state-owned company.
5G has exploded in China in recent times, with domestic operators adding 25 million subscribers last month alone, while the country has over 2.2 million 5G base stations to its name.
MIIT vice-minister Zhang Yunming said: "The innovative development of 5G+ industrial Internet enables enterprises to improve quality, reduce costs, increase efficiency, and promote green and safe development.
"It also paves a new path for upgrading traditional industrial technologies and speeds up the implementation and popularization of new production methods. Work will be done to establish standards for 5G factories fully connected by the Internet industry."