Chayora Holdings Limited, a data center designer and operator specializing in the Chinese market, and Standard Chartered Bank Principal Finance Real Estate (SCB PFRE) have reached agreement for the bank to become the lead institutional investor in the company. SCB PFRE has secured a strategic minority stake (19 percent) and will provide equity funding for Chayora's proposed key data center plans.
The agreement includes provisions for additional long-term equity for the anchor data centers located within Chayora's planned Tianjin and Hangzhou campuses in China. This commitment by SCB PFRE triggers matching equity from Chayora's domestic strategic partners which has been earmarked for these projects.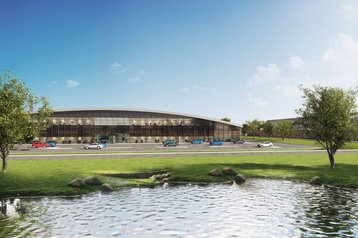 At a key point in China's economic transformation
The partnership between SCB PFRE and Chayora combines capital, a network of global client relationships and Chinese market expertise with a campus-based data center platform that will support the needs of international and premium domestic data centre users who require bespoke-built data centers in China.
This partnership will also provide Chayora's international customers with Standard Chartered's range of cross-border banking and financing products for their data center operations.
"We are now at a key inflection point in the critical transformation of China's economy from investment and manufacturing to consumption and services. Underpinning this transition is the tremendous growth in the provisioning of services, including e-commerce, cloud, ICT, banking and financial services, via the Internet," said Brian Chinappi, managing director and global head of principal finance real estate at Standard Chartered Bank.
"World-class data centre infrastructure with long-term scalability that is designed, built and operated to best-in-class global standards is an essential enabler in this transition. We believe that Chayora's core competence of design capability, power, land and permitting solutions and its world-class, highly experienced management team will make it one of the leading data centre solution providers in China."
Oliver Jones, CEO of Chayora, said: "Standard Chartered is a highly respected global-to-China financial institution with proven China market experience, relationships and staying power. Standard Chartered's equity commitment means that Chayora's other pre-committed capital injections are triggered and Chayora will now move forward aggressively with an initial development capital capacity of up to US$300m."
Driving the data center industry forward
Chayora's core business is to develop and operate large-scale, built-to-order data centers for individual clients on 5 to 15 year contracts.
The company says it can provide highly competitive power supply arrangements and green power solutions, project financing arrangements and fully transparent contracts with best-in-class global performance.
"To date, global cloud, banking and IT services providers have faced a serious shortage of large, scalable, leading-edge data center infrastructure in China. With the announcement of this agreement with SCB PFRE and with the support of our trusted domestic partners, Chayora is now superbly positioned to offer our customers leading-edge design and operational capabilities, clear and transparent licensing and regulatory comfort, large and long-term scalable, reliable facilities, superior economics and high-supply confidence for power and fiber solutions," said Jonathan Berney, COO at Chayora.
Chayora Holdings Limited is a Cayman Island company and is the 100 percent owner of Chayora Limited, headquartered in Hong Kong.