Chinese artificial intelligence company SenseTime has raised $600 million in its Series C round of funding, giving it a reported valuation of more than $3 billion, making it the world's most valuable AI startup.
Alibaba Group led the funding round, which also included Temasek and Suning, and comes after a $410m round last July. The company currently operates one of the largest high performance computing systems in China, and plans to build several supercomputers in cities where its face recognition technology is being increasingly used.
MassSurveillance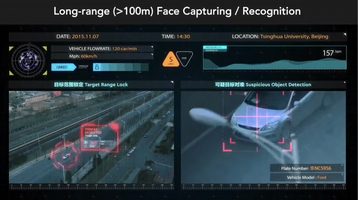 "SenseTime has established an AI ecosystem anchored with robust research, deep industry collaboration, and diverse partnerships," Li Xu, SenseTime co-founder and CEO, said. 
"Our Round C funding will maximize these advantages by accelerating the development of a global footprint with a larger ecosystem incorporating both domestic and overseas partners. The funding will also help us widen the scope for more industrial application of AI, thus increasing the value of SenseTime's global ecosystem."
The company has a deep learning supercomputing platform with more than 8,000 GPUs - more than the world's third most powerful supercomputer, Piz Daint, which has over 5,000 GPUs. Which GPUs are used in the platform is not known, but SenseTime has partnered with Nvidia in the past and presented at some of its events.
"We shall spend more money on building infrastructure," Li told Bloomberg in an interview. The publication reports that SenseTime expects to build at least five supercomputers in major Chinese cities in the coming year. 
Further details as to the scale of the systems is not known, but they will be used for the company's AI services, including Viper - which processes thousands of live camera feeds (from CCTV, to traffic cameras to ATM cameras), processing and tagging people and objects. The aim is to process 100,000 feeds simultaneously.
Viper, the project name for an in-development service, aims to help lead China's efforts to build an artificial intelligence-powered mass surveillance system.
SenseTime already offers some services in this vein. In Yunnan Province, the Public Security Department uses SenseFace to 'assist police officers in detecting criminal activities,' and plans to build an integrated application platform for face identification 'to help police officers efficiently prevent acts that endanger public security.'
In Guangzhou, the public security bureau uses SenseTotem, which compares and runs crime scene facial captures with database photographs to identify persons of interest. Over the last year, the video detection department has identified more than 2,000 suspects, SenseTime claims, and has 'captured more than 800 people and successfully solved nearly 100 cases.'
Beyond the 40 city authorities in China it works with, SenseTime hopes to sell its surveillance services to nations around the world - although this may depend on each country's views on privacy and civil liberty.
The company also signed an agreement with the municipal government of Shanghai to work on initiatives including smart city, smart traffic, autonomous driving and smart finance.
It previously partnered with Qualcomm, to increase facial recognition technology in its hardware and partnered with Honda on autonomous driving technologies. In China, it is working with Suning, the largest consumer electronics retailer in the country, to develop checkout-free shopping using facial recognition.
Bloomberg reports that SenseTime is planning another fundraising round, valuing the company at $4.5 billion.