China plans to significantly boost its national computing power by 2025.
In its latest computing plan, the country set a target for aggregate computing performance of 300 exaflops in two years. The Ministry of Industry and Information Technology (MIIT) said that China's computing power hit 197 exaflops this year, up from 180 exaflops in 2022.
The metric and method used to define and track that figure is not disclosed.
China's computing action plan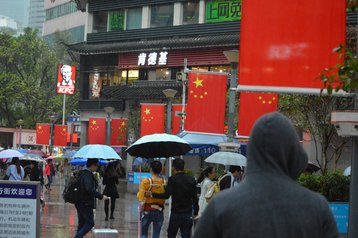 The 'Action Plan for the High-Quality Development of Computing Infrastructure' calls for a national storage capacity of 1,800 exabytes, with 30 percent of that "advanced storage."
To support that, China plans to "promote the innovative development of storage technologies such as all-flash memory and Blu-ray storage, seize the opportunity of flash storage upgrades, and achieve the common development of computing center memory and the storage industry."
Meta has long used Blu-ray for cold storage in the data center, and earlier this year Chinese vendor Huawei launched a data center-specific Blu-ray storage system. Companies like Folio Photonics are also trying to build next-generation optical storage platforms.
To track storage development, the Chinese government plans to regularly publish a 'China Storage Capacity Development Report.' It plans to promote the localized application of key storage components through all-flash storage machine.
Data centers for different needs
For compute, China hopes to push data center usage deeper into different sectors. For the education sector, it encouraged scientific research institutes to build computing resources and support training on computing platforms across different vocations.
For finance, it plans to build a multi-node parallel distributed computing resource architecture, and develop and deploy Edge computing nodes around low-latency business scenarios such as high-frequency transactions.
With transportation, it wants large, medium, and Edge facilities to support smarter traffic management, collaborative autonomous driving, and automated port and mine production. Surveillance systems are not mentioned, but are likely part of the infrastructure requirement.
As for medical care, the plan calls for "the construction of national and provincial medical big data centers," as well as "health Edge data centers."
For the energy sector, the plan asks for smarter energy production and dispatching systems to support compute infrastructure.
Finally, for the broader industrial sector, the government "will accelerate the deployment of industrial Edge data centers" for more efficient factories and logistics.
Beyond industries, the plan also says that it wants to "improve public computing power support capabilities to meet the computing power needs of intelligent services in libraries, art galleries, gymnasiums and other large public-benefiting places.
"Continue to promote the support of computing power for innovative applications and promote the expansion and application of computing power in new business formats such as the Metaverse and digital twins."
Alongside state government-built data centers and local government facilites, the government plans to help fund "key computing projects," providing loan and subsidy guarantees, and support the flow of social capital to the data center sector.
"Financial institutions are encouraged to increase credit support for green and low-carbon computing power infrastructure and support qualified companies in issuing green bonds," the plan states.
Low-carbon data centers
To lower the energy usage and carbon footprint of the new data centers, the plan says that China will develop more efficient computing, networking, and storage equipment.
They will also "explore the use of geographical conditions such as oceans and caves to build natural cold source data centers." Tencent has built a huge bomb-proof data center in the hills of Guizhou, while Highlander is working on underwater data centers.
The government will encourage data centers to "adopt technologies such as source grid load storage, support the integrated development and nearby consumption of renewable energy such as wind power and photovoltaics, and gradually increase the utilization rate of green power in computing power facilities."
The country is also in the midst of a related effort to move around five million racks from its populated east to the west, where more renewable energy can be found and land is cheaper.
Improving China's optical network
With facilities moving away from population centers, China will develop a network with a direct transmission "with a delay no higher than 1.5 times the theoretical delay."
The plan adds: "The optical transport network (OTN) coverage rate in key application sites has reached 80 percent, and the backbone network and metropolitan area network are fully supported. The use of new technologies such as IPv6 and SRv6 accounts for 40 percent."
The delay between 'important computing infrastructure' in urban areas should gradually become no more than 1ms.
Alongside the hardware buildout, the government wants to significantly enhance network security capabilities as well as the physical security of facilities.
Beyond China
Alongside its national built out, an addendum to the plan says that the government will "support Chinese enterprises to "go global" and use the "Belt and Road Initiative" Countries along the "One Road" will focus on deploying overseas computing power facilities."