Chinese chipmaker Hygon has launched 'Dhyana' x86 server processors, virtually identical to the silicon produced by AMD as part of its Epyc product line.
The reason for the similarity, Tom's Hardware reports, is that AMD engineered a complicated licensing agreement to allow Hygon to design and sell processors based on the Zen microarchitecture in China.
The Epyc switcheroo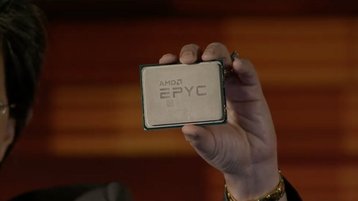 In 2016, as the company reported its sixth straight quarter of losses, AMD established a joint venture in China, in exchange for $293 million in delivery-based payments.
As part of that deal, it founded Tianjin Haiguang Advanced Technology Investment Co. Ltd. (THATIC) to license its x86 chip designs, jointly owned by AMD and a number public and private Chinese companies, including the Chinese Academy of Sciences.
THATIC then established Haiguang Microelectronics Co. Ltd. (HMC) and Chengdu Haiguang Integrated Circuit Design Co., Ltd (Hygon), with AMD owning 51 percent of HMC and 30 percent of Hygon. Tianjin Haiguang Holdings owns the rest of both.
Since it is majority-owned by AMD, HMC is permitted to use the x86 designs, as per cross-licensing agreements with Intel. HMC then licenses the intellectual property to Hygon, which then designs its x86 chips to be "specifically tailored to the needs of the Chinese server market," and then sells the blueprints back to HMC.
At this point, HMC turns to a foundry to actually manufacture the product, with the finished chips transfered to Hygon, which markets and sells the processors as Dhyana.
Epyc, AMD's own server chip, has already found some success in China, having been used in data centers run by Baidu, Tencent and JD.com. Chinese versions of the product may fare better, however, due to the Made in China 2025 initiative that prioritizes home-grown technology, and the brewing US-China trade war which is expected to impact technology products.
China started investing in domestic chip technology in earnest back in 2001, funding the Godson family of processors. In 2015, investment increased, after the US government blocked the sale of some American products used in Chinese supercomputers, including Intel Xeon processors and Xeon Phi coprocessors earmarked for an upgrade to the Tianhe-2.
Today, China operates the world's second most powerful computer, the Sunway TaihuLight, built using homegrown technology, although the Sunway's SW26010 processor is thought to have some limitations in memory speed and interconnect performance.
China's State Development & Investment Inc. also led a $100 million funding round in the Chinese AI chip firm Cambricon last year. The Beijing-based startup has begun to build server products for AI workloads.