Hong Kong-based developer Chayora has signed Keysource to design a network of data centre campuses across China. The facilities, in major cities, will let international firms access the Chinese market. 
Chayor has plans for data centers in Tianjin, Shanghia, Nanjing, Hangzhou and Guangzhou, and last month announced $73 million funding from Standard Chartered Bank Principal Finance, which gives the bank a minority stake in the company.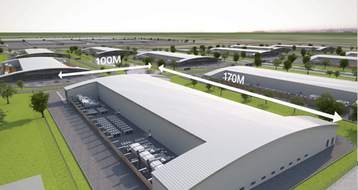 Strategic advice
Keysource will give strategic design advice and site master planning, and then work with Chayora and its customers to produce more destailed designs that meet client requirements, site plans and building codes.
The data centre campuses will offer services at various levels. "Powered land" is an option for prepared sub-plots, supported by infrastructure such as roads, fences and security, with renewable power up to 300MW and connectivity from multiple fiber providers. "Built-to-suit" provides a data center up to 200 hectares, built to the customer's specifications, including choice of vendors.
"Assured scalability" is tailored for new entrants in a large but risky market, says Chayora. Customers can start with 2MW of capacity with a guarantee that can be grown at an agreed price.
Finally, "wholesale colocation" offers a standard 12MW, Tier III building, with modular construction to internaitonal standards, and a PUE less than 1.4. Power capacity can go up to 40kW per rack,and space is set up in rooms, suites, cages or pods.  

The sites all have direct feed renewable sources, are fibre-connected, and ready for construction and immediate connection to the domestic internet. Some of these campuses will create technology districts - in Tianjin, for instance, there could be up to 12 data centres with around 3.5 million sq ft of buildings, about half of which will be white space. 

"This project builds on our growing experience in Asia, which will undoubtedly become the world's largest data centre market," said Mike West, CEO at Keysource. "We believe we have the skills and expertise to continue to deliver outstanding results here."