Back in July, our own Max Smolaks called for help making data centers more exciting for the masses. Now, it looks like fashion company Chanel has tried to rise to the occasion.
For the SS17 Chanel event at the Paris Fashion Week, head designer and creative director Karl Lagerfeld chose the theme 'Data Center Chanel.'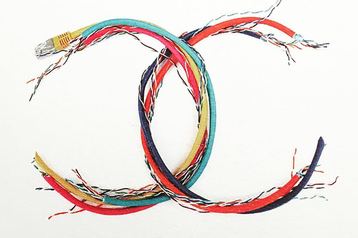 Where was our invite?
To watch the show, guests were sat on data center-esque benches, next to a Chanel logo created from cables:
SS17 opened with two robots walking out to Donna Summer's I Feel Love, with the backdrop of the Grand Palais interior decked out to look somewhat like a data center.
Then came a host of other catwalking models, again with the data center theme in the background:
The backdrop is presumably a stage design, but appeared to use Ethernet cables in various colors wound round and plugged into some kind of fascias. The actual kit looked obscure, although it was installed in racks and had some sort of overhead cabling.  
One strange detail is that close ups seem to show activity lights on, above empty sockets. 
Retro or futuristic?
As to the clothes, we at DCD are forced to turn to the experts. The Guardian's fashion editor Jess Cartner-Morley writes that it was a mix of both future and retro:
"The retro mood was overt in the styling. Models in skewed baseball caps and side ponytails wore medallions around their necks in the style of the Beastie Boys' Licensed to Ill era. (That the medallions could be reconfigured as modern office-pass lanyards added a layer of modern, e-surveillance paranoia.) Handbags were modelled on robots of a Star Wars vintage. But the clothes were classic Chanel: bouclé tweed suits worn shoulder-robed with flat boots, and silk tea dresses slit to the hip for this season's on-trend flying panels, in circuit board prints."
Vogue's Suzy Menkes was more critical: "If the models were supposed to be a futuristic tech group (and the first two came out as robotic, space age figures in helmets and padded mittens), shouldn't these smart women have been wearing techno fabrics and the kind of clothes that suit hot desking and 20 hour work shifts? Instead they had on boring old baseball caps."
The Telegraph's Fashion Director Lisa Armstrong concurred: "It was quite hard to follow the digital thread through this collection at times. How did those stretchy pastel nylon lingerie-skirts and dresses play into the theme for instance?"
There were, however, robot handbags and handbags that flashed, so there is that.
After, guests were able to walk through the data center: