The Chan Zuckerberg Initiative (CZI) plans to deploy a 1,000+ Nvidia H100 GPU high-performance computing cluster to develop large language models and other artificial intelligence models for biomedicine.
The company says that the facility is "one of the largest computing systems dedicated to nonprofit life science research in the world," despite CZI not being a registered nonprofit.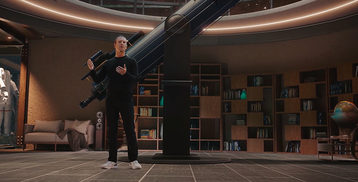 "AI is creating new opportunities in biomedicine, and building a high-performance computing cluster dedicated to life science research will accelerate progress on important scientific questions about how our cells work," Meta and CZI founder Mark Zuckerberg said.
"Developing digital models capable of predicting all cell types and cell states from the genome will help researchers better understand our cells and how they behave in health and disease."
The cluster will be used to develop openly available models of human cells, with predictive models trained on datasets such as those integrated into the Chan Zuckerberg CELL by GENE (CZ CELLxGENE) software tool, which comprises the largest corpus of standardized single-cell datasets, with more than 50 million cells. The models will also be trained on data generated by CZ Science research institutes, such as the protein location and interaction atlas OpenCell and the cell atlas Tabula Sapiens, built by the Chan Zuckerberg Biohub San Francisco.
"Developing a virtual biology simulator is a natural evolution of our work in science over the past seven years," said CZI head of science Stephen Quake.
"We have supported researchers to generate and annotate standardized, representative datasets; built tools to integrate these datasets and make them widely available - and, through our scientific institutes, we've built a new model for the kind of collaboration required to undertake this ambitious vision of building predictive cell models. CZ Science has employed many AI tools in its research for years, and this focus will unify our collective efforts to create a field-wide resource for better understanding cells and cell systems."
CZ Biohub San Francisco will also be providing its HPC team to help set up the new system.
The CZI group was set up as a limited liability company by Meta founder Zuckerberg and his wife Priscilla Chan with an investment of 99 percent of the couple's wealth from their company shares over their lifetime.
Keeping it as an LLC allows CZI to spend money on lobbying, invest in for-profit companies, and make political donations. It also does not need to disclose the pay of its top executives, and has fewer transparency requirements than a charitable trust.