A Canadian hedge fund has launched a new supercomputer.
Castle Ridge Asset Management, which bills itself as an "AI-driven" hedge fund, this week launched a new supercomputer at its HQ in Toronto, Canada.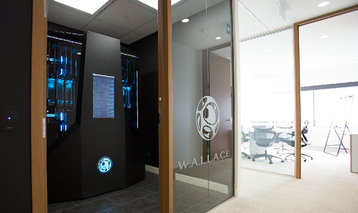 The company claims its new Wallace system is capable of quadrillions of floating-point calculations per second [meaning two or more petaflops], but notably relies on a proprietary 7.5 ft by 5.5 ft fluorinert liquid-cooled system.
Details about Wallace's specifications or the cooling system weren't shared. Financial News reports Castle Ridge spent around $10 million on Wallace.
Adrian de Valois-Franklin, Castle Ridge's CEO, said: "We are thrilled to unveil the new supercomputer. Wallace replaces an army of human portfolio managers and analysts, requiring no sleep, vacations, or pep-talks. Wallace is relentless in its goal, spotting hidden market opportunities to generate independent Alpha and maximize risk-adjusted returns."
Dr. Alex Bogdan, chief scientific officer, added: "Traditional systematic strategies are book-smart. Humans design them and rely on past patterns that work, until they don't. At Castle Ridge, Wallace generates street-smart strategies, able to enter unknown environments and rapidly adapt."
Founded in 2015, Castle Ridge relies on algorithms for its asset management efforts. The company says it has designed Geno-Synthetic Algorithms (GSAs) which detect sustainable behavioral patterns in market data and employ a 'survival of the fittest' approach to constantly refine results.
The company, which manages more than $100 million in assets, said a new supercomputer was required because traditional AI hardware was not designed for the way GSAs work.
"Most commercially available systems are 'tuned' for Deep Learning algorithms. Compared to mainstream NeuralNetworks, LLMs, and GPTs, Castle Ridge's GSAs are far more computationally complex," the company said.
On LinkedIn, the company added: "Careful design considerations were made to optimize parallelism, speed, and data onboarding and offloading between devices. The process involved strategic allocation of tasks between CPU and GPU cores, optimizing thread counts, and identifying parallel segments with synchronization points for optimal performance."
The company says its Wallace algorithms analyze thousands of securities, each from over 42 dimensions simultaneously, and monitor interrelationships between these securities over time. Castle Ridge claims its Wallace AI algorithm successfully anticipated over 40 public company acquisitions over a 48-month period.
DCD has reached out to Castle Ridge for more information about the supercomputer's specs and the cooling system.
More in The Data Center Cooling Channel