Container data center specialist Cannon Technologies and cooling company Stulz have jointly developed an invention to take the heat out of modular units.
Cannon said it needed a system to create temperature control for the container data center units it supplies for use in national security and extreme operations. The two companies already work together to create water cooled data centre and direct expansion (DX) outdoor enclosure cooling systems.
The new joint effort was a response to a UK government commission for a flexible, efficient, transportable data center for all seasons. The system had to instantly work when placed in desert, tropical, arctic or maritime conditions, with no prior preparation.
Cool it guys
Cannon asked Stulz to incorporate a cooling system into its transportable modular data center (TMDC), which is designed for specific projects and pre-configured before shipping as modules that can be assembled on site. While TMDCs normally use a within row, water based cooling system, the government insisted on a 'chiller less' system. The plan was to use free cooling where possible, so cold air from outside could chill water for air conditioning in the TMDC.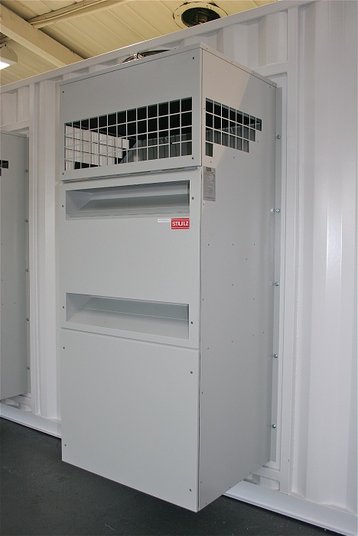 Stulz created a Wall-Air Evolution unit (left), where a packaged DX cooling unit contains a power saving, variable speed controlled compressor, with filtered fresh air and mixed modes. It packed this into a one-piece demountable unit that can give 15kW of cold controlled air into the TMDC modules. By aggregating a maximum of 16 units, it can give over 200kW of cooling at N+1 capacity.
Once in place the entire infrastructure self-regulates the internal air temperature. Meanwhile it auto-enables economic filtered fresh air and mixed mode cooling when ambient conditions allow. This cuts the power load of the cooling system dramatically at night.
Cannon's head of engineering Mark Awdas said the Wall-Air Evolution units have exceeded all expectations. "Users say they are easy to use, quiet and economical," said Awdas.