A former chip factory in Eugene Oregon is still likely to become a data center, even though though the winner of a $20 million property auction is still a mystery.
The 1.2 million sq ft (111,000 sq m) semiconducator factory, formerly owned by South Korean RAM chip maker Hynix, has been closed since 2008, but has now been sold in an auction. Reports earlier this week suggested that the buyer was a company called True Data Center, but it seems that True lost the auction and the real buyer is still unknown.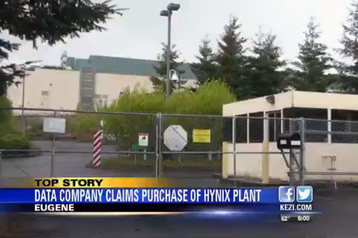 So it's not True
After the auction closed, Oregon TV station KEZI spotted a website and LinkedIn pages where True Data Center was marketing a plan to build a data center on the site, which it referred to as its Eugene Oregon Technology Center. But it has turned out that True doesn't own the site after all. 
True Data Centers "develops and operates, global leading energy efficient data centers. Currently working on projects in Florida, Oregon, North Carolina, Georgia, Ohio, SE ASIA and EME," according to the LinkedIn profile of Simon Tusha.
True Data Center had an option on the site to build a "multi-tenant data center" and had been working for three years on a plan to repurpose the building, according to OregonLive.  When the option expired, it was aparently allowed to continue listing it during the auction.
Since the auction, True has removed the listing from its site, indicating it was an unsuccessful bidder. "To the best of my knowledge, our group did not submit the winning bid for the Hynix plant," the company told OregonLive.
This leaves open the question of who the actual buyer is, which won't be released until escrow has been completed.
We suppose there may be a possibility that, if the winning bid is not substantiated for some reason, Tusha's firm could get another chance. So it might be True after all…