Boston University's Center for Computing and Data Sciences, due to open later in 2022, will get 90 percent of its heating and cooling from underground heat exchangers.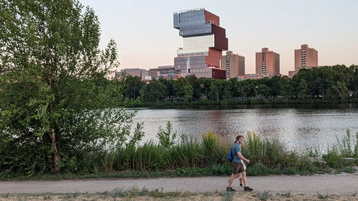 The building will circulate water 1,500 feet underground, where it is at a constant 50 to 60 degrees Fahrenheit (10 to 15°C) all year round. In winter, this tepid temperature can be boosted using heat pumps to make it warm enough to heat rooms, while in summer it is cool enough to provide air conditioning to cool the building.
The 19-story, 345,000 sq ft building, likened to a tower of Jenga blocks, will house the departments of Mathematics and Statistics and Computer Science and the Hariri Institute — and will be the largest fossil-fuel-free building in Boston, according to the University.
The heat pumps will operate through 31 boreholes and provide 300 tons of heating or cooling capacity. As well as the heat pumps, the building uses external sun shading devices, triple glazing, LED lighting, and efficient heating, ventilating, and air conditioning (HVAC) systems
The University has a plan to be carbon neutral by 2040, and has a power purchase agreement (PPA) for renewable energy from a South Dakota wind farm.
"Even on the coldest New England days, water prewarmed by the earth will be circulated through heat pumps that will further raise its temperature to deliver heat where needed," says Philip Warburg, a senior fellow at Boston University's Institute for Global Sustainability, in an article at Yale Climate Connection. "On warmer days or in heavily occupied spaces where heat builds up even in winter, the heat exchangers will draw on the earth's cooler temperature to provide air conditioning."
Dennis Carlberg, associate vice president for university sustainability, says: "The center has been a fabulous exercise in understanding what we can do. It's given our campus planning and operations folks a deep understanding of how this works."
Responding to a question from DCD, Philip Warburg clarified that the Center does not include any server rooms or data center space: "The BU Center for Computing and Data Sciences will be used for classrooms, offices, and lecture halls. BU's server is at a remote site so the heat generated by large data banks isn't a factor in this building."