Fuel cell specialist Bloom Energy has filed documents for an initial public offering, following years of R&D and trial deployments.
From its inception in 2001, the company spent seven years developing its technology, before releasing the Bloom Box product. Bloom's fuel cells rely on solid oxide technology to generate electricity through an electrochemical process that uses air and fuel, releasing water and a small amount of carbon dioxide as by-products.
IPO pricing terms weren't disclosed in the initial filing.
For the three months ending March 31, Bloom reported revenue of $169.4 million with a net loss of $17.7m. Last year, the company reported revenue of $376m with a net loss of $262.6m.
Summer bloom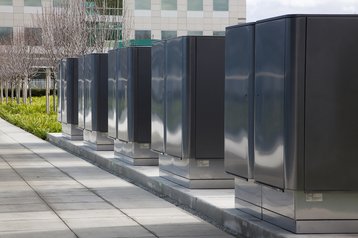 "We have a limited history operating our business at its current scale, and therefore a limited history upon which you can base an investment decision," Bloom said in its SEC Filing, when discussing risk factors.
"Our Energy Server is a new type of product in the nascent distributed energy industry. Predicting our future revenue and appropriately budgeting for our expenses is difficult, and we have limited insight into trends that may emerge and affect our business."
The company also notes: "The distributed generation industry is still relatively nascent, and we cannot be sure that potential customers will accept distributed generation more broadly, or our Energy Server products more specifically.
"Enterprises may be unwilling to adopt our solution over traditional or competing power sources for any number of reasons including the perception that our technology is unproven, lack of confidence in our business model, unavailability of back-up service providers to operate and maintain the Energy Servers, and lack of awareness of our product."
In an unusual move, Bloom also included a "Letter from our Chief Financial Officer" in the filing. In the letter, Randy Furr stated that the company intentionally installed systems at a loss to allow it to gain real-world data, while it was improving its product and reputation. 
This strategy, which saw years of losses, also led to private equity firm GSV Capital Corp selling its stake in the company at a loss in 2016, calling it "dead money."
Now, "at today's pricing, we believe we can break-even in our service business provided the time between stack replacements across all of our fleet is five years or better. Longer term, like many companies with an operation and maintenance business, our strategy is to make our service business a profitable part of our overall business, with predictable annual recurring revenue."
Bloom Energy's customers include Credit Suisse, Morgan Stanley, Exelon, Apple, Intel, AT&T, Disney, Medtronic, FedEx, Lockheed Martin, The Home Depot, and Walmart.
Last year, the company signed a deal with Equinix to supply fuel cells at 12 data centers. In total, across data centers and other large buildings, Bloom has deployed 312MW worth of systems.