Amazon Web Services has launched EC2 M7a Instances in preview, with general availability expected by Q3.
The instances deliver up to 50 percent more performance than M6a instances, AWS claimed. The new instances feature AMD's fourth generation 'Genoa' Epyc processors.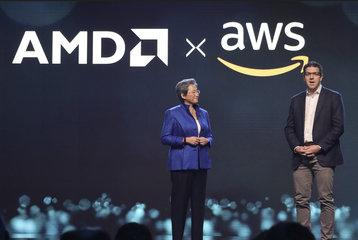 AMD will use the new instances for data analytics workloads, CEO Lisa Su said.
"AWS has worked with AMD since 2018 to offer Amazon EC2 instances to customers. Today, we are seeing customers wanting to bring new types of applications to AWS, like financial applications, applications servers, video transcoding, and simulation modeling," David Brown, VP of Amazon EC2 at AWS, said. "When we combine the performance of 4th Gen AMD Epyc processors with the AWS Nitro System, we're advancing cloud technology for our customers by allowing them to do more with better performance on even more Amazon EC2 instances."
The instances support AVX3-512, VNNI, and BFloat16 and feature Double Data Rate 5 (DDR5) memory, which provides 50 percent higher memory bandwidth than DDR4 memory.
Oracle also announced Genoa-powered E5 Instances, with general availability starting in July.