In 2014, the Australian Department of Defence turned to Lockheed Martin to consolidate some 280 data centers into 11 domestic and three international facilities. The process is still underway.
Originally an AU$800 million ($600m) deal, the project passed AU$1 billion (US$760m) in costs last year as the contract's remit expanded and was renegotiated. Now under Leidos Australia, the former IT services arm of Lockheed Martin that was spun off with defense contractor Leidos, the project has reportedly suffered setbacks and delays.
The waiting game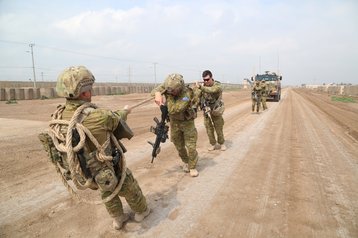 iTnews reports that Leidos subcontracted much of the work to NEC Australia, which is providing migration services and legacy systems hosting until the shift is complete. At that point, Leidos will take over the central, private cloud infrastructure until its deal ends in 2022.
That private cloud has been operational since late 2015, built with Microsoft, Oracle Solaris and NetApp technologies. But the defense department has had trouble getting the private cloud deployed across its 14 data centers.
In a 2015 review, the DoD found that it used 2,500 IT applications, including 300 financial apps, many of which were mission-critical or only compatible with older versions of software.
This has meant that the migration of business applications to the new system has been "slower than planned," a department spokesperson told iTnews. Delays establishing "specific capabilities required for some applications" have also impacted the project's progress.
This has moved the delivery of full operations for the centralized processing capability to the fourth quarter of this year.
"[This] will be achieved when the full scope of services, including all systems and facilities as required under the centralizing processing contract, have been delivered and accepted into operational service," a spokesperson said.