Arista, the cloud networking company, today announced a new portfolio of data center switches with speeds of 25, 50 and 100 Gigabit Ethernet (Gbe) switching. The new family of Arista 7060X, 7260X and 7320X fixed-leaf and modular-spine form factors gives customers choices for building scalable 100GbE networks with comprehensive support for both 25GbE and 50GbE as well as for seamless migration from existing 10G and 40G networks.
Support for workflow automation and workload orchestration is provided through the CloudVision suite, attempting to ensure operational consistency across all Arista platforms.
The flexibility of the new platforms offers a range of options at 1GbE to 100GbE that, Arista claims, will give customers a broad selection of cloud network switches. Arista also announced availability of new optics at both 40G and 100G including an industry compatible 40GbE bidirectional transceiver that operates over multi-mode fiber and a choice of new solutions for 100GbE connections for server to leaf and leaf to spine connections including Active Optical Cables, 100 GBASE-SR4 and 25GbE breakout cables.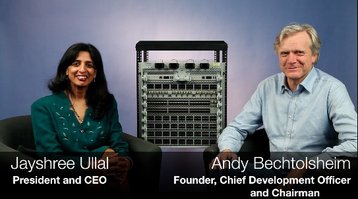 Details of the new kit 
7060CX-32S - offers multi-speed 10/25/40/50/100GbE on all 32 ports in a 1RU leaf switch along with flexible L2 and L3 features and wirespeed performance.
7260QX-64 - 64 ports of 40GbE in a compact 2RU system with low latency and power per port of under 5W per port.
7260CX-64 - delivers a new standard for 100GbE port density within a fixed form factor chassis offering 64 line rate 100GbE interfaces in 2RU.
7320X-32C - brings high density 40/100GbE connectivity options to the 7320X series of modular switches with 32 ports of 100GbE for a total of 256 ports of 100GbE per system. Each port can support a choice of 100GbE, 40GbE, 2x50GbE, 4x 10GbE or 4x 25GbE.
New 7050X fixed switch models are the 7050SX-72Q and 7050TX-72Q that offer a flexible combination of 48 10GbE ports with support for wire speed VXLAN routing. 
The new 7050X, 7060X, 7260X and 7320X series complement the Arista portfolio running the same EOS (Arista's operating system) binary image and with support for the full EOS feature set including Open Programmability, VXLAN, UFT for optimal scalability, Hitless Speed Changes, Smart System Upgrade - Leaf and LANZ.