AQ Compute has announced plans for a new data center in Barcelona, Spain, and is planning more across Europe.
Announced this week in partnership with CBRE, the company's second facility will offer a capacity of 50MW and is planned to be ready for operation by mid/end 2024.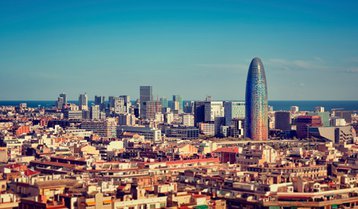 According to local press, the facility will be built in the Parc de l'Alba business park in Cerdanyola del Vallès on land previously owned by Cerámicas Catalonia. The company will reportedly be investing around $300 million in the project.
Petter M. Tømmeraas, CEO of AQ Compute, said: "We are delighted to enter this extraordinary agreement that will reshape the landscape of data center services in Europe with a focus on sustainability. The need for computing capacities is rising and, together with CBRE, we will be able to cater for the high demand from clients in Europe and across the globe."
Enrique Martínez Laguna, Vice President of CBRE, added: "Together, CBRE and AQ Compute are in the position to create a leading pan-European data center operator. Our joint expertise and capabilities are unique in the market, and we are very much looking forward to leveraging the ideal locations for our first data centers."
Aquila Capital-owned AQ Compute was launched in 2020 and aims to run data centers using clean energy stemming from hydropower, solar, and wind energy plants managed by Aquila Capital. Its first facility, built in partnership with Cloud&Heat outside Oslo in Norway, initially offered 5MW of capacity and could ultimately cover ​​20,000 sq m (215,000 sq ft).
The company said this week that further jointly-operated sites across Europe with capacities ranging between 10-50MW are scheduled, though details weren't shared. CBRE will lead in the selection of sites and will also act as the operator of selected sites and as a real estate and financial advisory services provider.
Henry Daunert, executive vice president of AQ Compute, said: "Our unique approach to sustainability, efficiency, and innovation that we at AQ Compute will bring to our clients in the quest for data decarbonization will set new standards in this European project. CBRE as a core partner is fully aligned with these goals and a key part of our strategy."
More in Construction & Site Selection