Apple is to invest $2 billion on a new data center that will become its global command center. The site, in Mesa, Arizona, was vacated recently by one of its accessory suppliers that went out of business.
The facility was until recently home to GT Advanced Technologies (GTAT) which was forced to vacate the buildings after it went into bankruptcy. The company collapsed after a major failure over supplying iPhone 6 display covers. Some ex-GTAT staff will be found jobs in the new facility, Apple has promised.
Green giant
Apple has said its new data center will be a 'command centre' for its global networks. It will be powered entirely by renewable energy, and could help create up to 500 temporary construction jobs and 150 permanent positions.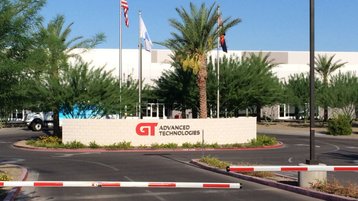 Millions were invested in the facility under the terms of Apple's original partnership with GTAT to make sapphire displays. The investment made to create a sapphire production facility could be put to good use, according to Apple, but it's likely this will be limited to using the existing building, since no sapphire manufacturing is planned on the site. Having launched with great fanfare early in 2014, the sapphire idea bit the dust before the end of the year.
"We couldn't be more excited about it," said Arizona Governor Doug Ducey, "The command center is a historic expansion from one of the most iconic, successful companies in the world."
In 2013 Arizona created the conditions for major inward investment when it adjusted its local laws to accommodate major tax breaks for data center operators who set up in the state.
Governor Jan Brewer's state budget pushed through the tax incentives, which are meant to benefit both mega-scale single-tenant projects and companies that provide colocation services out of multi-tenant facilities.