Apple said all of its data centers were now fully powered by renewable energy, including facilities in California, Texas, Ireland and Germany. Data centers that house computing infrastructure for services like iTunes, Siri, Maps and the App Store now get 100% of their power from a combination of renewable energy the company buys and on-site generation capacity, the company said in the latest report on its facilities' environmental impact.
As use of internet-based services (like many of the ones Apple provides) skyrockets, so does the size of the data center infrastructure that supports those services. Apple and other big-name companies that provide them – companies like Facebook, Google and Twitter – are under pressure to minimize the environmental footprint of their data center operations, whose growing energy use has attracted a lot of public attention over the last two years or so.
Green Apple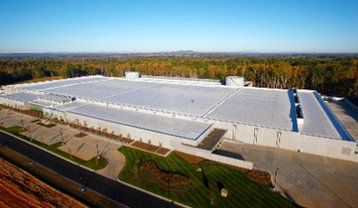 "We've already achieved 100 percent renewable energy at all of our data centers," Apple's report, available on its website, reads. "At our facilities in Austin, Elk Grove [California], Cork [Ireland], and Munich, and at our Infinite Loop campus in Cupertino."
Gary Cook, senior IT analyst at Greenpeace, said the news demonstrated progress in Apple's commitment to leading the way to a clean energy future. "Apple's increased level of disclosure about its energy sources helps customers know that their iCloud will be powered by clean energy sources, not coal," he said.
Cook drew attention, however, to a new data center Apple was building in Maiden, North Carolina, where he said some powerful forces were working against renewable energy. "As it keeps growing the cloud, Apple still has major roadblocks to meeting its 100% clean-energy commitment in North Carolina, where renewable energy policies are under siege, and electric utility Duke Energy is intent on blocking wind and solar energy from entering the grid."
Duke would beg to differ. Randy Wheeless, a spokesman for the company, said Greenpeace's statement was misleading. "We work very closely with Apple on [its] solar installation, and Duke Energy's got 1,700MW of wind and solar, so we recognize the value of renewable energy on the nation's grid," he said.
Apple has built a 10-acre 20MW solar array next to its Maiden data center, capable of producing 42m kWh of energy per year. The company is building a second 20MW solar array on land nearby.
"Seventeen hundred megawatts of wind and solar across the nation sounds like a company that's very supportive of renewable energy," Wheeless continued. But Duke's total generation capacity is 57,700MW, which makes its renewable-energy capacity about 3% of the total mix.
While headquartered in North Carolina, it is only one of the states the company operates in, others being Ohio, Indiana, South Carolina and Florida. Duke became the largest utility company in the US after closing its acquisition of Progress Energy in August 2012.
Most of its renewable-energy generation capacity is outside of North Carolina, Cook pointed out.
North Carolina currently has a law on the books that requires investor-owned utilities in the state to meet up to 12.5% of their energy needs using renewable sources or through increased energy efficiency. This is one of the ways the state is trying to reach its goal of having 11% of the energy it consumes come from renewable sources or through efficiency measures.
This effort, however, is under attack, Cook said. Last week, a bill meant to strike the renewable-energy portfolio requirements was introduced in the state's Hose of Representatives. The bill, titled Affordable and Renewable Energy Act (H.B. 298), proposes to cross the entire section on renewable energy and energy efficiency standards for electric utilities out of state law.
The house passed the bill on first reading and passed it on to be reviewed by a variety of legislative committees.
Apple has committed to being in North Carolina for at least the lifetime of its Maiden data center, which could be as long as 20 years. If the company cares about a strong renewable-energy supply, it should demonstrate it by demanding better renewable-energy standards, Cook said.
"Apple should disclose more details about how it will push utilities and state governments to help it achieve its ambitious goal in all of its data center locations," he said.
Apple representatives did not respond to a request for comment.
In addition to its massive solar array, the company has also installed gas-powered fuel cells, capable of generating 10MW of power. Together with the solar capacity, Apple will be able to produce 167m kWh of energy a year at the site.
The company said its ongoing data center construction projects in Prineville, Oregon, and Reno, Nevada, will follow the same renewable-energy standards.
In Oregon, the company is planning to buy locally generated renewable energy directly from the producers to power the entire facility. Its plan in Nevada is to take advantage of the area's "natural solar radiation and geothermal resources."