Japanese telecommunications provider NEC has completed the installation of the first fiber optic submarine cable to cross the South Atlantic and connect Africa to the Americas, two years after starting the project.
The system, commissioned by African wholesale telecoms operator Angola Cables, links Luanda in Angola to Fortaleza in Brazil, promising to lower latency – from 350ms to 63ms - and traffic costs between the two continents, while delivering a five-fold increase in data transfer speeds.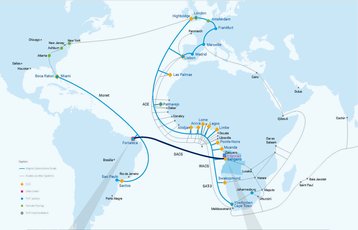 It is hoped that the new cable system will boost economies in both Africa and South America, vastly speeding up data exchanges between the two continents that previously had to route their communications through Europe.
Beyond the obvious connectivity improvements, the cable will lighten the load on fiber optic routes between the US and Asia too, halving latency between Miami and Cape Town.
Angola Cables CEO António Nunes said that the company's ambition was to "transport South American and Asian data packets via our African hub using SACS, together with Monet and the WACS, providing a more efficient direct connectivity option between North, Central and South America onto Africa, Europe and Asia."
"By developing and connecting ecosystems that allows for local IP traffic to be exchanged locally and regionally," he continued, "the efficiency of networks that are serving the southern hemisphere can be vastly improved. As these developments progress, they will have considerable impact for the future growth and configuration of the global Internet."