Ancient remains have been found at a data center and cable landing station (CLS) construction site in Guam.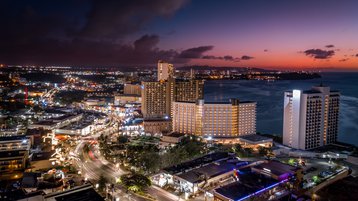 The Gaum Daily News reports the remains were found at GTA TeleGuam Alupang data center and Cable Landing Station site on the northwest coast of the island. GTA is developing a 4MW, two-story 31,000 sq ft (2,875 sqm) data center able to house up to six subsea cables.
Construction is still expected to proceed along with the completion date of 2024, but the discovery has led to the withdrawal of Hawaii-based archeological Keala Pono, who was working on the project.
Keala Pono, on pulling out from the project, decided to host a ceremony to honor the remains found in the adolescent-age Latte Period burial.
Guam's coast is home to hundreds of Latte Period sites, which covers the AD 1000 to AD 1521 period. The burial sites are categorized by group graves arranged in large monoliths of coral or stone and arranged in parallel pairs. These burial sites can be quite extensive, with many generations buried in the same location.
The ceremony was led by Jeremy Cepeda, Dakota Camacho, and Hila'an San Nicolas from the community group Gi Matan Guma.
"We were called here to do this solemn ceremony for the remains of those that have been found here and all around this property and also symbolically for wherever else they may be at rest here on our island and elsewhere," said Cepeda before starting the ceremony, which consisted of a series of prayers and chants as well as offerings of freshwater, coconut oil and måmå'on, a beetle nut mix.
Ian Catling of TomTom Consultants, a cultural monitoring company sub-contracted by Keala Pono, was also present during the ceremony and thanked GTA and the State Historic Preservation Officer's office for allowing the community to pay its respects to the ancestors prior to their relocation to a crypt.
"As evidenced before, during, and after this recent typhoon, our island residents need connectivity to one another and the world; the GTA Alupang Data Center and Cable Landing Station being constructed is critical infrastructure that will help assure that vital service is provided," GTA community relations manager Michele Catahay Perez said in an official statement.
"This private project on private property is for public benefit and economic development. As a responsible, respectful developer that has operated here for over 70 years, we have retained archaeological services to ensure cultural and historical preservation. So far GTA has contracted three separate archaeology companies over the last 15 months to oversee various phases of the Alupang project and have expended hundreds of thousands of dollars on archaeology. There have been a few shards of artifacts, pottery, seashells, and bone fragments. We are working with officials to re-inter these findings. The project for these essential undersea cables is scheduled to land on Guam this year."
Ground was broken on the Alupang project in October 2022. While archaeological discoveries such as the burial site can often significantly delay construction projects like this, GTA has not altered its expected launch date of 2024.
However, with Keala Pono withdrawing from the project, GTA will need to hand off the excavation to another archeological firm.