Google's parent company Alphabet is reportedly planning to spin out one of its quantum computing moonshots.
Business Insider reports that Alphabet is preparing to spin out Sandbox (sometimes known as [email protected]). Though Sandbox is closely tied to Alphabet's skunkworks X unit, it is reportedly separate from that business.
Sandbox is separate from Google's quantum computing team in Santa Barbara, and focuses on software and experimental quantum projects. The unit is currently led by Jack Hidary.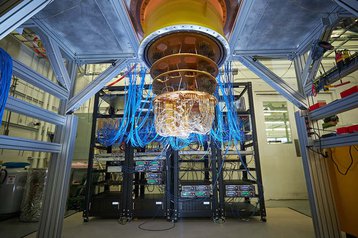 In November, Hidary signed a California regulatory filing for a company called SB Technologies, Inc. that will do business in this state and is based in San Francisco. A bare-bones website, sandboxquantum.com, that is linked to that company has also gone live in recent weeks.
Wired first detailed the existence of a second quantum computing team within Alphabet in 2020. Sandbox is seemingly more focused on quantum algorithms and applications than hardware; the publication quotes Hidary noting that "Hardware's very interesting [but] it's really software that gets the majority of the value creation."
What exactly Sandbox is working on isn't clear; a previous BI report described the company as "exploring the intersection of physics and AI."
A VentureBeat report suggests the company is looking at how to use classical hardware designed for machine learning & artificial intelligence – such as Google's tensor processing units (TPUs) – to simulate quantum computing workloads using a set of new APIs called Floq.
An Alphabet spokesperson told Insider. "Sandbox collaborates and shares technical learnings across Alphabet, including with Google's quantum and AI and Cloud teams, and with various Other Bets."
Google has been working on quantum computers for years, building Bristlecone and other quantum chips. In 2019, it claimed quantum supremacy - where it was able to outperform classical computers on a very specific workload.
Google last year opened a quantum computer data center and R&D lab in Santa Barbara, and aims to build a commercial-grade 1-million-qubit quantum computer by 2029.