Alibaba has completed construction on the latest expansion to its Zhongdu Grassland Project data center in Zhangbei County, China.
According to local press, Project D and E of the Zhongdu Grassland Project in Zhangbei reportedly includes two data halls, providing 3,000 cabinets, and a total capacity of 37MW. Undertaken by China Construction-Dacheng Construction Co., Ltd., expansion work at the site to the northwest of Beijing began in April 2020 and the project has been delivered for operation slightly ahead of schedule.
Alibaba first broke ground on the site in 2015, with Phase 1 covering an area of about 74 acres and 300,000 servers. The 20 billion yuan ($3 billion) site covers around 165 acres in total and can reportedly hold 300,000 servers, eventually expanding to 1 million servers in the future.
Last month, construction also reportedly began on Alibaba's Cloud West Cloud Computing Center and Data Service Base in Jianzhou New City, Chengdu. The 50 billion yuan ($7.7 billion), 250,000 square meter (2.7 million sq ft) site will consist of 10 data center buildings hosting more than 200,000 server cabinets, with the first buildings ready for use in September 2022.
Register now for DCD's virtual event for the data center construction ecosystem: DCD>Building at Scale
Ali expanding cloud infrastructure, facing large monopoly fine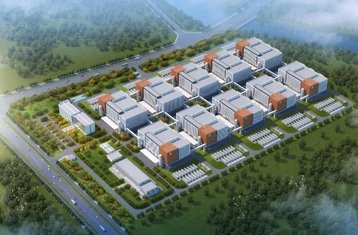 Last year Alibaba announced aggressive expansion plans, aiming to add a million servers in China and spend 200 billion yuan ($28.2 billion) on its cloud infrastructure over three years. It recently announced the first profitable quarter for its Aliyun cloud division, making $3 million adjusted EBITA profit on revenue of $2.4 billion for Q4 2020.
However, the company was recently handed a record $2.8 billion fine by the State Administration for Market Regulation for "abusing its dominant position" to limit competition in online retailing.
"Alibaba would not have achieved our growth without sound government regulation and service, and the critical oversight, tolerance and support from all of our constituencies have been crucial to our development," the company said in a statement. "For this, we are full of gratitude and respect."
"We're happy to get the matter behind us, but the tendency is that regulators will be keen to look at some of the areas where you might have unfair competition," Alibaba Group's executive vice chairman Joe Tsai said on an investor call.