Submarine cable owner and operator Bluesky Pacific Group has contracted Alcatel-Lucent Submarine Networks (ASN) to lay 9,700 km of fiber between New Zealand and Hawaii.
The Moana Cable system will be the first long-haul cable system in the Pacific to deploy 200 Gbit/s transmission technology. It will also include landing stations on Cook Islands and Samoa, enhancing capacity and ensuring redundancy across the region.
The cable is scheduled to come into operation in 2018.
Connecting the Pacific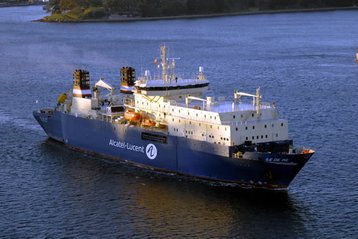 Bluesky Pacific Group is a subsidiary of Spanish telecommunications giant Amper SA. It owns the ASH Cable connecting American Samoa to Hawaii and the SAS Cable connecting Samoa to American Samoa.
The Moana Cable will be built using ASN's 1620 Softnode platform that enables the transmission of up to 240 Tbit/s via multiple fiber pairs. The same equipment will be used by the upcoming Australia West Express cable system, which is set to connect Australia, the Middle East and Africa.
The new cable sytem has been designed to accommodate future expansion, and could be used to connect small communities across the Pacific, like the island nations of Niue, Tokelau and Tonga.
"Cost effective and reliable telecommunications bring significant benefits to education, commercial, medical and governmental activities and play a vital role in economic and social development," said Adolfo Montenegro, CEO of Bluesky Pacific Group
In addition, Bluesky has signed a memorandum of understanding with RAM Telecom International for interconnection with its SEA-US submarine cable linking Asia to Hawaii and the West Coast of the United States. This means the Moana Cable will eventually be able to provide fast connectivity between the two hemispheres.
Under the terms of the contract, ASN will be responsible for all aspects of the cable laying process, from system design to installation, commissioning and maintenance. Amper is planning to fund the project internally through existing free cash flow generated by Bluesky.
"Our investment in Moana Cable is in alignment with Amper's strategy of growing our footprint in the Pacific and supporting Bluesky's vision of connecting our pacific communities around the world," said Jaime Espinosa de los Monteros, CEO of Amper and chairman of the Moana Cable project.