Macquarie-backed AirTrunk has filed for its SYD3 data center campus in Sydney, Australia.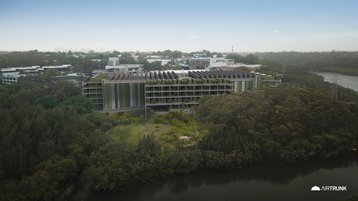 After buying the land in 2021, the company has filed documents to the New South Wales Department of Planning for a 320MW data center covering 123,000 sqm (1.3 million sq ft) over seven stories.
The site in question is at 51 Huntingwood Drive, around 30km west of Sydney, and was purchased for AU$110 million (US$74.1m). In total, it is expected that the project will require an investment of close to AU$1 billion (US$670m) from start to finish.
The development will be built in stages, including demolition and bulk earthwork, and will feature two substations, 30 diesel fuel storage tanks, 216 emergency backup generators, three below-ground water tanks - each with a 335,000-liter capacity - 172 hybrid dry-coolers, and 86 water-cooled chillers.
Greenbox Architects have estimated that the building will reach 50m in height, and will house 2,592 lithium-ion battery cabinets.
The proposal has been through the exhibition stage, where people are encouraged to voice their opinions and any objections to the development. As of now, the project remains listed as "more information needed" and is still being assessed.
The development was filed for by Willowtree Planning on behalf of property developer EMKC.
In the application, Willowtree wrote: "A site must be large enough to fit the required capacity and located in close proximity to primary demand, in this case, Sydney's CBD. The site must also be located within a certain proximity to other data centers which are owned and operated by the end user.
"The creation of the region is what delivers the capacity, latency/speed, reliability, and security that is required by customers. A significant part of a data center's function is to facilitate the ongoing operation of critical infrastructure and delivery of critical services, such as energy, water, food, transport, health, banking, and finance."
If the application is accepted, SYD3 will be AirTrunk's largest site in the region, after SYD1 with 130MW and SYD2 with 110MW. The company is currently working on its 70MW expansion of the SYD2 campus, expected to be completed in 2024.
At the end of last month, Amazon announced that it was planning a new data center campus also in West Sydney. The facility will offer 35.2MW across 9,225 sqm (99,300 sq ft), with construction expected to commence this year.
More in Construction & Site Selection