Finland's CSC – IT Center for Science has installed a quantum computer to its Lumi supercomputer.
Helmi (Finnish for Pearl), a quantum computer from the Finnish research organization VTT, has been connected to Lumi. The groups said this is the first time in Europe that this kind of hybrid service connecting a supercomputer and a general-purpose quantum computer is opened for researchers.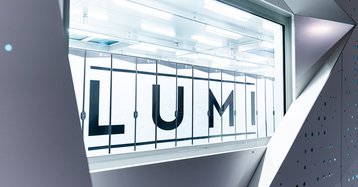 The companies said the integration will enable hybrid computing projects and boosts the development of the required quantum algorithms and software.
Finland's first quantum computer, the 5-qubit Helmi hosted by VTT Technical Research Centre of Finland, became operational in 2021.
Located in CSC´s data center in a former paper mill in Kajaani, Lumi began operations in 2021. The HPE Cray EX supercomputer is capable of more than 375 - and a peak performance potentially above 550 petaflops. LUMI is a 4,112-node system with AMD Epyc "Trento" CPUs and AMD MI250X GPUs and ranks third in both the most recent Top500 and Green500 lists of most powerful and most energy-efficient supercomputers. It is the leader in Europe on both fronts.
The connection was built in cooperation between VTT Technical Research Centre of Finland, CSC, and Aalto University, within the framework of the Finnish Quantum-Computing Infrastructure FiQCI.
"VTT wants to do applied research using the quantum computer and learn more about these possibilities. We see great potential in quantum computing for accelerating innovation for the benefit of companies and the whole society. We will continue to build bigger and more powerful quantum computers, which will also become available for users through the same gateway," said Pekka Pursula, Research Manager at VTT.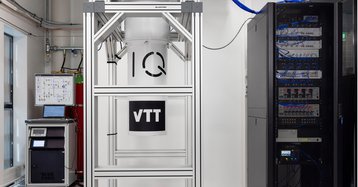 Pekka Manninen, Director of LUMI, added: "LUMI is now the most powerful quantum-enabled supercomputing infrastructure in the world, in addition to being a leading platform for artificial intelligence. This means that we have all the drivers of the future of computing seamlessly integrated and ready to be utilized."
Pilot access to the infrastructure will be granted for users from Finnish universities and research organizations.
A 20-qubit quantum computer is currently under development at state-owned VTT, with a 50-qubit upgrade planned for 2024.
Last month the EuroHPC JU selected six sites to host quantum computers. In Czechia, a quantum system known as LUMI-Q will be installed at the IT4Innovations National Supercomputing Centre in Ostrava. In Poland, the Poznań Supercomputing and Networking Center (PSNC) affiliated with the Institute of Bioorganic Chemistry, Polish Academy of Sciences (PAS) will host a system.
The Barcelona Supercomputing Center in Spain is also set to host a quantum computer, which will be installed and integrated into the MareNostrum 5 supercomputer in collaboration with the Institut de Física de Altes Energies (IFAE) and the International Iberian Nanotechnology Laboratory (INL) in Portugal.
In Germany, the Leibniz Supercomputing Centre is set to be the host of the upcoming quantum system. As early as 2023, the LRZ will make the quantum demonstrator Q-Exa, financed by the BMBF, available to European users. A 100-qubit system will then be added in further steps by 2026 via a classic public tender procedure. Cineca in Italy and GENCI in France were also selected as hosts.