A renewable investment firm has announced plans for a hydrogen production facility and 1GW data center campus in West Virginia.
Texas-based Fidelis New Energy, which has previously invested in carbon capture, hydrogen, and renewable fuel production facilities, this week announced it had selected Mason County in West Virginia as the location for a hydrogen production facility and data center campus – known as the Mountaineer GigaSystem and the Monarch Cloud Campus.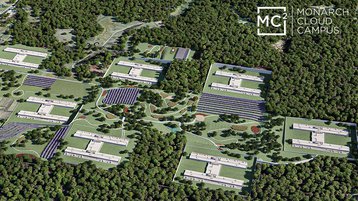 Once fully built out, the company said the cloud campus' capacity could reach 1GW, powered by the hydrogen produced on-site via natural gas. Waste heat from the data centers will be fed into co-located greenhouses for food production. The data center campus could see up to $5 billion invested, according to Fidelis.
"We are proud to have selected West Virginia as home to the Mountaineer GigaSystem where it can serve as a major anchor and support for the broader ARCH2 Hydrogen Hub," Pete Hollis, SVP and global head of CCUS of Fidelis said. "The state's position at the forefront of energy and chemical production in the United States makes it a natural choice for a project such as ours."
The first phase of the Mountaineer GigaSystem is expected to commence operations in 2028. The site would be built out over four phases, with each phase producing over 500 metric tons per day of net-zero carbon hydrogen. The company said once its carbon capture and sequestration (CCS) facilities are live, the site could permanently store approximately 10 million metric tons per year of CO2.
Fidelis says it has developed a proprietary hydrogen technology known as FidelisH2. The company said its H2PowerCool technology utilizes FidelisH2 hydrogen as a net-zero energy source to power and cool data centers.
Fidelis also announced a letter of intent with energy technology and service provider Babcock & Wilcox (B&W) to support the evaluation, development, and delivery of its BrightLoop hydrogen technology at the Mountaineer site. BrightLoop systems enable the production of hydrogen from waste biomass including fallen trees, sawmill waste, and other solid fuels as well as natural gas.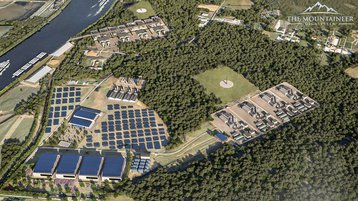 Dan Shapiro, CEO and co-founder of Fidelis said. "We would like to express our gratitude to Governor Jim Justice and his administration, including Director Mike Graney, Secretary Mitch Carmichael, the West Virginia Economic Development Authority, and Mason County Economic Development for recognizing the value the Mountaineer GigaSystem and the Monarch Cloud Campus bring to West Virginia."
West Virginia Gov. Jim Justice added: "I am beyond excited that West Virginia will be the home of the Mountaineer GigaSystem and Monarch Cloud Campus. West Virginia has a long history as an energy powerhouse for our nation, thanks to our hardworking people who know how to get the job done."
He continued: "And now, we're in a great position to make the most of a new fuel – hydrogen – through this incredible project in Mason County. There's simply no doubt that Fidelis is going to help shape the future of West Virginia in a major, major way by assisting in the commercial lift-off of some truly exciting new industries."
West Virginia Senate President Craig Blair added: "This investment by Fidelis will enable them to use our abundant natural gas resources to produce clean hydrogen energy, which then will be used to power manufacturing sites and more. I am pleased to welcome them to West Virginia."
Fidelis was established in 2019 by Shapirio and Bengt Jarlsjo, who previously held roles at The Shaw Group, Inc., Quanta Capital Solutions, Inc., and First Infrastructure Capital Advisors, LLC.
Mason County is in the west of West Virginia, on the state line bordering Ohio.