Achieving the Uptime Institute's highest certification, Tier IV Gold, was a key requirement when NextDC, one of the largest data center operators in Australia, was planning its Generation 2 data centers.
To put it into perspective: before NextDC, no rival facility across Australia could boast such an achievement. The Tier IV Gold certification provides assurance that a data center's design meets the most demanding standards for resilience and long-term reliability. If a data center operator can brandish a Tier IV Gold certification from the Uptime Institute, that's as good as any guarantee that the facility will keep going, regardless of whatever fate, the weather or even politics may throw at it.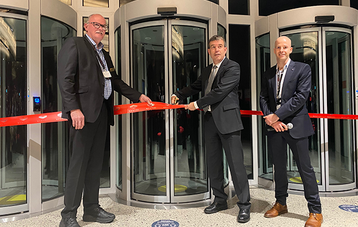 And Uptime Institute certification is more than just a tick-box exercise. It's a process that takes weeks, with Institute experts poring over the in-depth plans, and site visits by the kind of people who like to unplug things just to see what happens.
When NextDC was designing its Generation 2 Data Centers it wanted to standardize all its electrical infrastructure and automation technology. This would maximize availability and resilience, and improve monitoring and tuning of critical data center infrastructure, all in real-time.
Having deployed power infrastructure from three different vendors for the Generation 1 power train, NextDC opted instead to standardize purely on ABB for Generation 2.
This included step-down and isolation transformers, and medium- and low-voltage switchgear, along with ABB's critical services monitoring and infrastructure management system. At a practical level, the deal also included high and low capacity bus ducts, featuring intelligent tap-off boxes. ABB also provided support for NextDC's integrated systems testing phase through to completion.
According to Nico Ninov, Market Development manager, Data Center Server Room Solutions, at ABB Switzerland, NextDC was looking to achieve higher density in its energy distribution, without adding space. "In particular, the slim design of the CMS branch monitoring current sensors enables them to populate the tap-off boxes with twice as many protection devices, compared to the solution they had before," said Ninov.
ABB's critical services monitoring system doesn't just help NextDC to proactively maintain or swap-out data center infrastructure hardware (CSMS) before it fails, but also covers such details as the fluctuating power usage of the servers and the rise and fall of server room temperatures, as well as humidity. This may sound uneventful, but in a hyperscale data center adjusting proactively can help keep costs down.
"Being able to monitor power usage, available and associated redundancy equipment can help to reduce costs. This range from basic power balancing, right through to contractual commitments and key performance indicators (KPIs)," says Jozsef Ferenczi, ABB's manager for Control Technology in Australia, who worked on the project.
He continues: "Even relatively small changes in temperature in and around the servers hosted in the data halls can result in ventilation and air conditioning systems working harder than they need to. This, in turn, will affect the facility's overall power usage."
NextDC's first two Generation 2 data centers, in Brisbane (B2) and Melbourne (M2), were the first to go online – and the first in Australia to be able to boast Tier IV certification. Moreover, B2 was the first in the entire southern hemisphere to achieve Tier IV Gold certification for operational sustainability, too. Sydney (S2) followed suit, followed by Perth (P2) during 2020.
NEXTDC now runs nine data centers in all the big Australian cities – Brisbane, Canberra, Sydney, Melbourne, and Perth – with two more under development. Only five of these are Generation 1. Over the past year, they have been pushed to the limit as a result of the Covid-19 pandemic due to the surge in homeworking, the increase in using Zoom and other online communication tools for the first time.
If this investment sounds expensive, it is nevertheless part of a push by NextDC to reduce costs, according to ABB's Australia Business Development Manager, Simon de Bell. "NextDC's goal is to reduce the overall cost-per-megawatt in every new facility that they build," said de Bell.
With NEXTDC now offering customers a 100 percent uptime guarantee, that's a promise that could prove very expensive if it were unable to keep it.
If you want to learn how you can achieve this for your next data center project, don´t miss the ABB innovation show about sub-distribution on March 3rd 2021 at 8AM and 4PM CET. Register here
Further reading
An interview with the head of ABB's Global Data Center Solutions.

ABB's analysis of how data center automation has evolved.

ABB's guide on how advanced solutions can be used to support the design and implementation of a power distribution and monitoring system for a data center.