Hybrid-IT is presenting itself as the next evolution for the industry, with increased demand seeing a necessity to branch out. But it remains an important consideration as to how you will build a solid digital-back bone for your hybrid-IT solution.
At our recent Planning for Hybrid IT broadcast, we sat down with NTT's director of the Hyperscale team, Amy Daniell to discuss just this, and how your business priorities may inform your choices.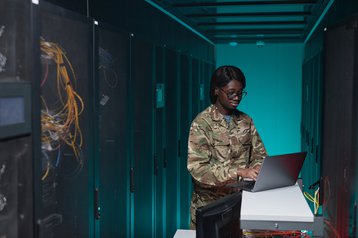 "By 2025, 85 percent of infrastructure strategies will integrate on-premises, colocation, cloud, and Edge delivery options compared with just 20 percent in 2020. That is an extraordinary adoption rate in such a short period of time.
"We can only guess the reasons for this. I'm assuming some of it will be the global pandemic that has recently affected all of us."
Despite the pandemic, this has been a move that is a long time coming.
It is an old cliche that change is something to fear. While it can feel somewhat unknown – it by no means needs to be something to hide away from. Regardless of the industry, you must be able to evolve and adapt.
But when it comes to evolving, you want to ensure that your company moves in a direction that is aligned with your business priorities, and this can greatly inform your move to hybrid IT.
"There are a number of business priorities that we might have. Sustainability, something certainly that I know at NTT is absolutely critical for us, is one of our top priorities and has been for a number of years.
"Employee talent and well-being. Particularly in the last two years, it has been a challenge to attract and retain talent, but also to ensure the talent we do have are looking after themselves and we're looking after them.
"Or, onto more business-specific priorities. How do you acquire, retain and monetize profitable customers? Are you looking to primarily secure your business through digitalization or increased business agility?
"No matter what the business priority, there are technology-led initiatives that can enable you to do this, whether that is enabling a hybrid workplace, modernizing the technology stacks, accelerating digitalization of business processes, or using something like industry 4.0. to innovate. The critical thing is that across all of these initiatives, there is a layer of security, and they can be used to accelerate business priorities.
"When you've established your business priorities, it is relatively simple to understand the combined tools and resources required for a scalable and future-proof IT strategy workload placement. It's not only about moving to the cloud, it's about creating a baseline for infrastructure strategy based on the workloads that run within physical data centers.
It is about being willing to be flexible in your approach – to adapt to end-user needs and demand. This is where hybrid IT comes in as, at its very core, it values flexibility.
"Hybrid IT involves a mix of IT infrastructure platforms, private cloud, and public cloud services, as well as on-premises legacy technologies. Previously, organizations tended to converge on standardized and uniform IT infrastructure arrangements, but there's been a trend towards more bespoke solutions in recent years, as complexity has grown.
"Some infrastructure is managed in-house with hybrid IT arrangements, while other aspects are outsourced to third-party data centers or cloud computing."
To learn more about building a digital backbone to support hybrid IT, download the full episode:
More from NTT Global Data Centers