DCD's Living at the Edge Award is now open for entries, sponsored by Panduit.
From a rooftop in Manhattan to a car park in New Delhi, a factory floor in Frankfurt to a mobile mast in Manila; the 'edge' means many things to many people. This updated award category seeks to celebrate the rising tide of edge data centers in all its forms. The finalists will be projects that can demonstrate to the judging panel a unique and innovative approach to housing IT at the customer edge that acts as an exemplar to the wider industry. The winner will be announced at a gala ceremony on the 6th December in central London.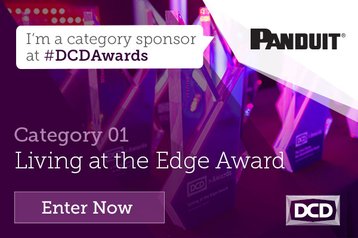 Competitive Edge
The 2017 Living at the Edge Award went to Vapor IO for its Project Volutus, scheme to deliver edge resources.
Sponsor Panduit is looking forward to similar stories from entrants to the 2018 Award: "We are delighted to be the sponsor of this year's Living at the Edge Award; it puts a spotlight on the innovation happening in one of our industry's most exciting frontiers. One that is driven by better connectivity," said a representative.
Who should enter
The Award is open for a project which must be operational by 31st August 2018
Vendors, consulting engineers and contractors can nominate projects on behalf of their clients and assist in the preparation of the entry, however the primary recipient of the award will be the project end-user/operator. An international panel of judges will select a shortlist and then a final winner for the 2018 Award, which will be presented at a Gala Dinner on December 6.
Panduit is a world-class provider of engineered, flexible, end-to-end electrical and network connectivity infrastructure solutions that provide business with the ability to keep pace with a connected world. Our robust partner ecosystem, global staff, and unmatched service and support make Panduit a valuable and trusted partner
Click here to find out about the 18 categories