Developing an embodied carbon calculator for the construction industry; the evolution of EC3 for the data center
—
Reducing embodied carbon emissions is one of the most urgent opportunities we have today in reducing the footprint of our built spaces as building materials manufacturing makes up 11% of total GHG emissions annually. Until recently, few tools were available for addressing embodied carbon's role in climate change.
EC3 is a ground-breaking database tool focused on the procurement and specification of low-carbon materials, allowing for easy comparison of product-specific EPDs. This presentation, brought to you by the tool's implementer, will demonstrate how this open-source, supply chain-focused solution, now with more than 10,000 subscribers, can move the data center industry towards net-zero through democratizing data and providing transparency in construction.
This session took place on February 25, 2021
Please complete the following form to access the full presentation.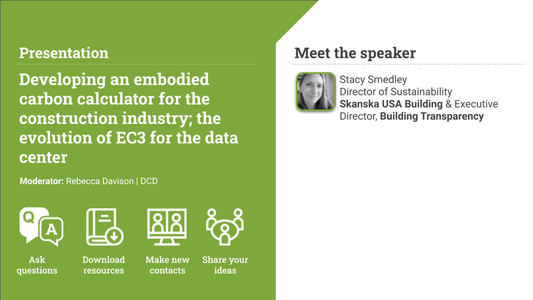 Developing an embodied carbon calculator for the construction industry; the evolution of EC3 for the data center