Panel: The sustainability game changers panel…
This session took place on February 24, 2021
Please complete the following form to access the full presentation.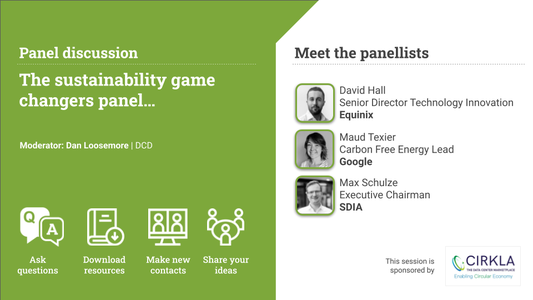 Panel: The sustainability game changers panel…
We ask industry leaders where the road to true sustainability is taking us. What are the big technological leaps they believe are going to have profound effects on how data centers can be more sustainable? Or do they think it's policy that's going to win over the day and really be the driver that fundamentally changes the industry's approach to achieving a sustainable future?
What will be the catalyst to the industry coming back from COVID in the most sustainable way? Will liquid cooling finally have its day, or will battery innovation be the next game changer? How will circular economy initiatives play a role? And what about carbon taxes? Where do they think the change is coming from?
---
What can data centers do to implement a circular economy?
Roundtable discussion
We invite you to join this roundtable directly following this panel discussion to continue the conversation, share your own insights and to find potential collaborators.
Speakers
Brought to You by