Building at Scale | Europe | Watch on-demand
Watch this broadcast
The Data Center Construction Channel
Case study: Unlocking carbon emissions strategy in data center design and build at scale
This session took place on November 29, 2023
Please complete the following form to access the full presentation.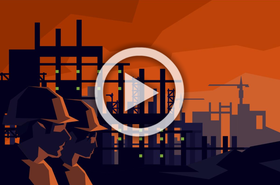 Case study: Unlocking carbon emissions strategy in data center design and build at scale
This episode will stream live at 11:00am GMT
With 3.8% of the world's GHG emissions coming from the digital sector, meeting the pace of demand in a sustainable way has never been more critical. Manufacturing of user equipment and scope 3 emissions remain key to measuring carbon emissions and traditionally have been notoriously difficult to manage and measure.
In this case study, DCD will be joined by both Equans and Digital Realty to discuss how they were able to achieve emissions reductions of 7000 tCO2eq. Speakers will elaborate on which methodology & tools were in this 30MW IT project, including calculation of financial emissions factors and analysis of over 30 years of operations. Speakers will discuss the challenge of the project and how these were overcome, and how this contributed to their organisations' overall net zero goals.
Speakers
Brought to You by