Tower companies have been looking at Edge computing as an opportunity area for new market opportunities for several years now," said Chris Antlitz, Technology Business Research principal analyst.
"There's actually been some startups that have some very interesting technology like Vapor IO that makes technology that's optimized for far Edge deployments, especially locations like a tower site. The towers are very interesting because they have access to power, fiber, and access to direct integration within the access network, especially on the mobile side."
Vapor IO recently expanded its Kinetic Grid Edge computing platform to Europe through a partnership with Spanish telco Cellnex Telecom.
Cellnex hosts the Kinetic Grid platform on its fiber optic network in Barcelona, connecting to Vapor's existing grid in the US. Other European cities are expected to follow, using Cellnex's network of data centers and tower ground space.
Vapor IO's Kinetic Grid platform, which has been rolled out into more than 30 US markets, links data centers to a platform that supports applications close to users and data sources, making distributed Edge applications faster and more reliable, and minimizing traffic toward the core of the network.
Linking Towers and the Edge
So what's the link between Towers and Edge? Antlitz explained to DCD that this is where data center companies are playing a key role.
He notes that TowerCos have identified the role which data center companies can play in helping them take advantage of Edge computing opportunities.
"Some tower companies have made acquisitions of data center type companies, and part of the reason is that they need to understand this, as they're not in the data center business," said Antlitz.
"By acquiring assets, they can familiarize themselves with that, and they can prepare for the proliferation of Edge compute sites."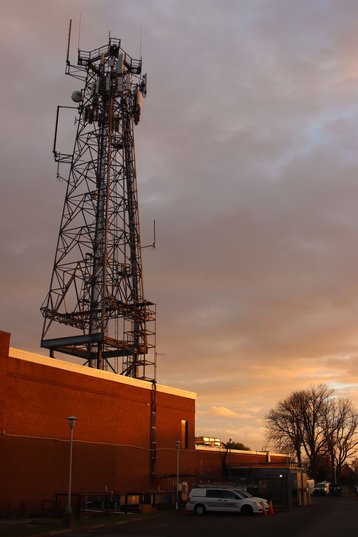 Edge data centers located at the tower
At nearly 226,000 sites, American Tower Corporation (ATC) is one of the world's largest TowerCos. But the company has begun to venture beyond just towers, and into the Edge.
In the spring of 2019, ATC acquired Colo Atl, marking its entry into the industry.
Tha business has six Edge data centers located strategically across the US, with two in Colorado, and one in each of Flordia, Georgia, Pennsylvania, and Texas.
Two years later, ATC snapped up carrier-neutral data center company CoreSite for $10.1 billion. CoreSite operates around 25 data centers across the US.
At the time, ATC said the deal will be "transformative" for its mobile Edge compute business, allowing it to establish a "converged communications and computing infrastructure offering with distributed points of presence across multiple Edge layers."
"The combined company will be ideally positioned to address the growing need for convergence between mobile network providers, cloud service providers, and other digital platforms as 5G deployments emerge and evolve," added CoreSite CEO Paul Szurek.
ATC isn't the only tower company doing this either, with rivals like SBA Communications eyeing the market.
SBA recently launched an Edge data center at a tower location in the Dallas Fort Worth area of Texas.
Jeff Stoops, CEO at SBA, recently revealed that the company has "somewhere between 40 and 50" Edge sites in operation or development.
The company began exploring Edge computing modules at tower sites in 2018 in partnership with Packet before its acquisition by Equinix.
SBA's portfolio of Edge infrastructure includes mini data centers with multiple cabinets for colocation and redundant power and systems for critical IT uses, with these modules varying in size.
Why are they doing this?
Telecom towers could be the ideal location for small-scale Edge nodes.
"Towers are the perfect location for micro data centers as real estate in cities is expensive and limited, hence it is very hard to build larger data centers here," STL Partners' senior consultant Matt Bamforth says. "Plus, they are already equipped with connectivity and power – two critical factors to enable data centers.
"Tower companies (and mobile operators who still own their towers) can capitalize on this opportunity. Many next-generation applications will need compute to be brought to the last mile to achieve the necessary latency. Meanwhile, carriers are virtualizing their RAN, which will accelerate investment in data center-like facilities at towers and consolidate network equipment at these premises."
He adds that IT infrastructure for Edge applications can be colocated at these premises, further optimizing investments and opening up additional revenue streams.
Effectively, the closer that data centers and servers are to the point of transmission, then the easier it is for technologies such as IoT, VR, and artificial intelligence to become accommodated, without increasing network congestion and latency.
However, the Edge sites are usually limited in size due to the power constraints of a tower deployment - with the towers designed without an Edge data center in mind.
Carriers' view on Edge
Verizon is also keen to get in on the Edge, inking preliminary 5G and Edge deals with Amazon Web Services, Google, and Microsoft.
Verizon has identified virtual RAN (vRAN) as a key part of its Edge strategy, with the operator aiming to deploy 20,000 by the end of 2025.
Virtual RAN or vRAN as it's also known, effectively virtualizes the functions of a traditional RAN (Radio Access Network) and offers them on flexible and scalable cloud platforms instead.
The telco noted that the deployment is in response to customers' varied latency and computing needs, while it also provides greater flexibility and agility in the introduction of new products and services. Verizon says that 5G uses will rely heavily on the programmability of virtualized networks.
The towers are also the location of where virtual RAN is, notes Antlitz, which he says is the evolution of radio that will be one of the key use cases for Edge computing.
Reality check on Edge
Whilst Antlitz does acknowledge the potential of Edge computing, he's also quick to state that the sector remains in an "experimentation" phase that hasn't taken off as the industry had expected.
"The Edge has not proliferated at the extent the industry thought it would maybe just two years ago, as the market has slowed significantly from original projections."
There are a few reasons for this, he says, including the silicon that is used.
"Silicon needs to evolve to process workloads at the far Edge more efficiently. It's too power-hungry and there's not enough power. Power is a big limitation at the far Edge, and although it's available, it's limited. The other thing is it's you need to build sites that are at form factors that are suited for far Edge deployments."
The cost of these Edge deployments is also a factor, plus the uncertainty around the return on investment it brings. But he's confident that Edge compute will be deployed at tens of thousands of sites in the next decade.
He expects the tower companies to leverage their assets to tap into an industry he says is worth tens of billions of dollars.
"The tower companies have identified Edge computing as a growth opportunity for them over many years. Edge will help these companies to add a new form of revenue, if they can leverage what assets they already have, along with their existing customers."