Today there are more than 400 or so subsea cables in operation, with dozens more due to enter service over the next few years. These cables are the lifeblood of the Internet; with the majority of the world's data flowing through fiber sitting on or under the ocean floor.
However, the global supply of ships that can actually lay and maintain these cables is surprisingly small: just 60 ships worldwide. Most of those ships are long in the tooth; following a glut of new ships deployed around the millennium at the height of the dot com boom, new ships have been few and far between since.
As the industry sees huge demand for new cables, largely driven by OTTs and hyperscalers, there is an increasingly acute capacity crunch of available ships, meaning projects are facing lengthy delays.
This feature appeared in the latest issue of the DCD Magazine. Read it for free today.
Cable ships: in demand yet full of veterans ships rarely replaced
According to the ISCPC, there are around 60 cable ships in the world. According to SubTel Forum's 2021/2022 Annual Industry Report, after a splurge of investment around the turn of the century, there were no new build cable ships delivered between 2004 and 2010, and only five ships were delivered between 2011 and 2020.
And new ships aren't being added at the same rate older ships are being retired. Only eight of those 60 ships are younger than 18, with most between 20 and 30 years old. 19 are over 30 years old, and one is over 50; the Finnish Telepaatti, built in 1978.
"There were a lot [of ships] built about 20 to 22 years ago," says Gavin Tully, Managing Partner at Pioneer Consulting, which provides services on deploying submarine cable networks. "There's definitely a crunch in the industry; projects are really at the mercy of ship availabilities."
"You can't just walk in and purchase ship time," he adds. "Scheduling is really paramount right now; it takes time to get a slot in the ship schedules, and things are not very flexible."
As an example, cable ship operator Alcatel-Lucent Submarine Networks (ASN) currently has a fleet of seven cable ships – a mix of purpose-built and retrofits, including one in development that was originally a cable ship that was moved to the Oil & Gas sector and is being re-fitted back to telecoms use – with several dedicated to either cable deployment or maintenance. Business is booming.
"Our fleet is now occupied up to 2024," explains Jérémie Maillet, VP of Marine Operations at ASN. "The contracts we are negotiating right now are for installation post-2024."
Demand is so high, that cable companies are often buying capacity or chartering other cable ships to try and keep up with business.
"Three years ago, we were not hiring external vessels apart from in specific areas where local resources were mandatory due to local regulation or customer requirements. At times [recently] we have up to four external vessels working in parallel with our own vessels on projects."
At the same time, they are trying to keep an aging fleet out at sea for as long as possible instead of having them return to port by transporting the cable to the cable ships via freighters.
"With such a demand for installation activity, we can't really expect the cable ship to come back all the way on a long transit back to the cable factory to collect cables," adds Mick McGovern, ASN's Director of Projects. "We're using freighters a lot more to keep feeding the installation vessels cables in the region that they're working in."
Cable ship shortages causing delays and re-routes
While the existing fleet of cable ships had been more than enough to keep up with industry demand since the dot-com days, the recent boom in new subsea cable projects has seen the cable ship industry quickly become a seller's market, where the power is in the hands of the ship operators.
"The suppliers are in a good position right now where they're basically able to say, 'give me money and I'll give you a schedule. And if you don't have the money, come talk to me when you do and I'll tell you what the schedule is then,'" says Tully. "And that's a very different situation than five years ago, where the suppliers would be elbowing each other out of the way for business."
As a result, most projects will likely be faced with delays. Even the hyperscalers, which may get more lenient treatment as suppliers know they are good for the money and likely repeat customers planning multiple projects, are seeing delays creep up.
"There's definitely frustration on the part of the developers, and I would include the hyperscalers," says Tully. "Projects are taking longer than anyone is planning for. The majority of the projects that we see finish later than when they were initially conceived."
Projects that might include a year buffer to allow for financing, permitting, and other delays, are "plowing through" those time contingencies by anything from six months to more than a year later than was initially planned.
Delays caused by external factors can also have a knock-on effect. ASN's McGovern says. "[Delays with permits] lead to huge inefficiencies in the operations of the vessels. You might have the cable loaded and the configuration on board, but if a permit is not in place or it's delayed and unclear when it is going to be freed, then you end up turning over the cable, laying the system in a different direction and then turning the cable back when permit becomes available and going back and laying it."
"It can lead to you installing a system during the period of the year that is inefficient in terms of weather and create restrictions in terms of your ability to deploy and recover plows or land shore ends, etc."
While hyperscalers might see a project slightly delayed, Pioneer's Tully notes that the smaller cable projects are the ones that are more likely to be affected.
"The suppliers right now won't commit to anything until you give them a downpayment, and that downpayment is also hand-in-hand with proof of full funding for the entire project," he says. "The suppliers are prioritizing the hyperscalers, which is sometimes a disadvantage to the smaller, more entrepreneurial customers who may need a signed contract with the supplier so that due diligence by the financier can be completed. But the schedule inside that contract won't be confirmed until downpayment and proof of full funding is made."
Even if a developer does have a schedule with a supplier, if there are delays in achieving financial close, the schedule can easily slip by six months or more, or see price increases to hold the schedule.
"On existing projects where all the money is committed, we're still seeing delays creep up, and it's creating a lot of tension between clients and suppliers. Some of these delays are in the order of six months, even when a project is already fully financed, as the suppliers themselves are encountering a lot of difficulties scheduling all the different projects and prioritizing things."
As a result, smaller cable companies are beginning to look at taking a 'disaggregated approach' to financing a cable project; instead of a turnkey project and a small number of large financiers, companies are working with smaller, more nimble and risk-tolerant financiers who are willing to finance smaller parts of a project. For example, funding a marine survey, then purchasing the cable, then permitting, etc.
"It's being bitten off in chunks, which when you're asking someone to take a risk of giving me $5- $10 million versus $200-300 million, clearly the risk tolerance is very different. "
Tully adds that the company is seeing more phased implementations in longer projects. Instead of doing all 10,000 kilometers of a trans-Pacific cable at once, for example, the project may be broken into smaller chunks – i.e Asia to Guam first, then Guam to North America later – which lowers the financing hurdle and means a smaller window of ship time is needed at any one moment.
The most extreme public example of the impact of the cable ship shortage is in Canada. In May 2021, Maple Leaf Fibre, a Canadian project to lay fiber cables between Kingston, Toronto, and Montréal, scrapped plans to lay a cable under Lake Ontario due to a shortage of cable ships.
Announced in 2018 as a joint venture between Metro Optic and Crosslake Fibre along with Utilities Kingston, the cable was set to be terrestrial between Kingston, Ontario, and Montréal, and under Lake Ontario westwards from Kingston to Toronto. However, a shortage of cable-laying vessels led to a change of plans, with the whole cable system now due to be terrestrial, running from Toronto east via Kingston to Montréal.
Fergus Innes, chief commercial officer of Toronto-based Crosslake, told Capacity: "Vessel availability [is] one of the reasons we have pivoted from a subsea design to a full terrestrial build on our Maple Leaf Fibre project."
The requirement of needing to take a ship that was big enough to carry and lay the cable yet also small enough to fit along the St. Lawrence River lock system likely added further complexities. DCD reached out to Crosslake, who declined to comment further.
The Maple Leaf route was unique in having a terrestrial route as a viable alternative – with the 'wet' route likely a cheaper option in the original project timelines – with most other cables unlikely or unable to make such route adjustments and instead will have to accept delays.
Where's the next-generation fleet?
The main issue causing the crunch is the lack of ships, but the fact the fleet is largely full of vessels closer to retirement than launch isn't helping.
"We're seeing projects now that have been delayed because of just maintenance issues with ships," says Tully. "That's not due to negligence; these ships are just old and there's no slack built into the schedule."
The equipment and technology aboard the vessels are always improving. And new ships do occasionally come into service, but they are often on a one-in, one-out basis as older vessels are retired. And often even then the recent trend has been to retrofit older ships to save costs and speed delivery.
In 2020, Orange subsidiary Orange Marine said it would build a new cable ship designed to help maintain both fiber and power cables, due for launch in 2023 to replace the 40-year-old CS Raymond Croze. Its last new ship was the Pierre de Fermat in 2014.
This year saw SBSS launch a new cable ship, CS Fu Tai. Built in Spain in 2007 as an offshore construction vessel, SBSS purchased the Fu Tai in 2021 and converted her to a bespoke vessel.
South Africa's Mertech Marine recently announced the retirement of cable retrieval ship MV Lida. It plans to replace the vessel, but hasn't made any announcements yet.
However, Pioneer's Tully notes that ship owners and operators are incentivized to maximize every available minute of these ships to be working, due to the high cost of standby, which can run into the tens of thousands of dollars per day.
"The worst possible thing you can do is have these ships sitting around idle. But now they have a book of business and can say this ship is now booked for the next 24-plus months, and that is exactly what these companies want."
New ships can cost upwards of $100-150 million, and delivery can take several years. The soaring price of steel also means the costs for new ships are going up rapidly.
Many cable ship owners and operators are reluctant to make such a large-scale investment in new builds as the costs and business case can be hard to justify, and there's no guarantee that demand will continue at the current red-hot levels once any new ships do enter service.
At the same time, change is on the horizon. The future of shipping involves more automation – partly to reduce costs and partly to deal with an ongoing skills shortage – yet remote navigation and maintenance technologies are still in their nascent stage.
The fossil-fuel-reliant industry is looking to decarbonize over the next couple of decades and meet the various 2050 net zero goals being set by countries the world over. However, large-scale batteries that can reliably support large vessels at sea for long periods are still in development, and the supply chain to ensure such technologies can be supported wherever in the world a cable ship might be needed are still a ways off.
These ships can be in service for 20 years or more, and it seems many cable ship owners and operators are reluctant to pile money into the next generation of vessels when many automation and sustainability technologies are still immature. However, Orange Marine has said the replacement for the Raymond Croze will include electrical storage back-up using batteries when she launches in 2023.
"The question of the renewal of the worldwide fleet is still a big question mark. We don't have the financial capacity of a Maersk or a big company owning tens or hundreds of vessels," says ASN's Maillet. "But at some stage, we will have to face and take the decision to start to renew the fleet.
"The market ramped up very quickly during the last few years. Nobody really anticipated it, and the lead time for new build construction is a minimum of three years. Will this market will be sustainable for the next 10 years? Maybe it's not enough to defend a strong return on investment to build new cable ships."
In the meantime, retrofits of smaller ships are becoming more common for smaller projects. Maillet notes more retrofits and smaller, more specialized vessels tailored to specific roles rather than very large multipurpose ships may be a way forward in the short term to alleviate some of the capacity crunch in a more cost-effective way.
"In the future, we may design different types of vessels, more specialized and not capable to do everything," he says, "but extremely efficient for what they have to provide in terms of service."
For the longer trans-oceanic projects, however, the cost and wait times for a new cable ship capable of carrying thousands of miles of cable means new ships are unlikely for now.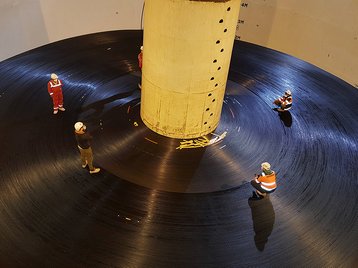 Maintenance: thin margins mean even less chance of new ships
While the lack of cable ships is affecting the deployment of new cables, a similar issue may be bubbling in the background for the maintenance of existing cables.
While Global Marine's maintenance account director Steve Holden tells DCD there is probably currently 'sufficient repair tonnage' for the current market, the market is facing similar barriers to investing in new vessels, driven by narrower margins compared to the cable deployment side. The company is looking to extend the lifespan of its fleet – seven ships including those on charter ranging from 10 to 30 years old – to 40 years.
"The maintenance contracts are not really long enough and not conducive to any new build globally," he says. "Many just see it as a cost to be driven as low as possible.
"At the moment the economics for replacing a traditional cable ship don't stack up at all. If we saw that a conversion opportunity arose that was suitable, then we would take it. But we believe that it's actually better to extend the life of the fleet at the moment."
While it hasn't made an official announcement, SubCom, a major player in the subsea cable space, is reportedly looking to exit the maintenance market and focus its ships entirely on cable laying, meaning there will be even fewer cable ships dedicated to maintenance at a time when there are ever more cables entering operation.
On the plus side, maintaining cables is often less demanding than laying them and often doesn't require as much cable or heavy equipment such as plows. This allows for smaller vessels that may not need to go out to deep sea, as most cable breaks are close to shore, meaning there is a greater opportunity for customizing older ships to fill shorter-term gaps.
ASN's Maillet said he'd like to see the hyperscalers and other companies invest in larger, longer contracts that would allow cable ship companies to invest in new and converted ships.
"There is hard competition on the maintenance market, but the duration of the contract for the moment is probably not at the right level," he says. "The cable system owners should understand that by keeping pressure on this market, it will prevent the cable ship operators' abilities to invest.
"In a sustainable industry, three or four vessels should be under construction or conversion right now to address the demand and to be able to cover all the repairs."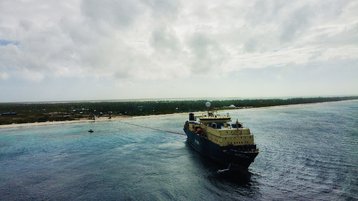 The future: More crunch, more long-term charters?
There is no magic bullet to solve the capacity crunch; cable demand continues to go up, and the number of cable ships to deploy and maintain them is unlikely to increase substantially in the near future. As a result, it remains a seller's market and cable owners should likely expect longer timelines on their projects.
Though it would likely be affordable to companies making billions of dollars of profit per quarter, none of the people DCD spoke to for this piece predict it is likely that a hyperscaler such as Google will build or buy a cable ship or cable ship company in the short to near term.
While most admit it could be remotely possible in the long term, a more likely scenario would be to see a hyperscaler lease a boat on a long-term charter.
This is a common practice in the Oil & Gas industry, and also happens in the telco/subsea fiber sector, and would allow them to benefit from having ready access to such a vessel and skills without the long-term investment or ongoing management.
NEC recently signed a long-term charter contract with Global Marine, securing the Normand Clipper for approximately four years from September 2022 to May 2026.
NEC said the contract "strengthens its provision of submarine cable systems" and allows it to "respond to expanding demand for submarine cables."
Built in 2001, the 127-meter ship can carry up to 5,000 tons of cable, equating to around 7,000km worth of fiber.
"Until now, NEC has procured submarine cable-laying ships for each project separately," the company said. "In order to respond to the growing demand for new submarine cables due to the recent spread of 5G and the increase in data traffic between data centers in various countries, NEC has chartered a long-term dedicated cable-laying ship for the first time."
But as demand for subsea cables continues to grow, something may have to break.
"The situation does seem unsustainable in the long term. In the near and medium term, I think it'll just continue and we'll band-aid it as we go," concludes Tully. "It doesn't seem sustainable to continue without a big delivery of new ships. At some point, there has to be a tipping point."
"I wonder if it will mean the entrance of new companies stepping in and saying 'we're going to build new ships."