Despite spanning an area almost the size of the US or Europe, Australia has a population of just 25 million, close to that of Madagascar or the Ivory Coast.
The US boasts major data center hubs on both coasts as well as growing markets in the south and north, while Europe has at least five established markets (the FLAP-D of Frankfurt, London, Amsterdam, Paris, and Dublin) alongside nascent locations across the continent. But the world's largest island has just two notable data center markets in Sydney and Melbourne.
Because of its sprawling geography but relatively small population, Australia may actually be better suited for a nascent Edge data center industry than Europe or North America. The demand for local compute in smaller cities and towns is there, but many areas lack any sort of nearby data center facilities of any sort, and most will never justify build-outs at large scale.
Battle for the Australian Edge
A number of firms have sprung up in Australia, looking to fill the gap for Edge locations outside the traditional metros.
Founded in 2018, Leading Edge Data Centres (LEDC) uses prefabricated data centers that can be quickly erected. The prefabs come in either 30 or 75 rack configurations. The company has data centers in Tamworth, Newcastle, Albury, and Dubbo; it has plans for 10 more in New South Wales (NSW) before moving into Victoria and then to Queensland and the Gold Coast.
The company has partnered with Schneider Electric and Cisco, and its backers include Australian investment firm Soul Pattison and DigitalBridge.
Edge Centres (EC) builds smaller, providing modular 'off grid' data centers powered by on-site wind and/or solar power and connected to the main grid as backup. Each facility is equipped with just under 1MW of solar infrastructure, and 48-hour battery, and UPS backup equipment, which supports 64 1kW quarter racks. The company says the sites can produce more electricity than they use.
As well as Traralgon and Bendigo in Victoria, EC has or is developing Edge locations across Grafton and Dubbo, NSW; Toowoomba, Cairns, Mackay, and Townsville, Queensland; and Hobart, Tasmania. In September 2021, the company broke ground on an Edge network operations center in Albury, New South Wales. By the end of 2023, it aims to have 20 sites operational, and 40 sites operational by the end of 2024. Some are built in containers outside, others are installed in purpose-built rooms inside existing buildings.
Other players including DXN and DC Two develop small modular facilities for enterprises as well as operate a small number of colocation facilities. As well as operating three permanent data centers, DXN has delivered at least 20 modular data centers to customers including Boeing and Covalent Lithium as well as a prefabricated Cable Landing Station to the Belau Submarine Cable Company (BSCC) for its new cable spur to Palau.
The state of the Edge now
As DCD has previously reported, many within the data center industry believe we are still in the early days of the Edge. While future use cases are being developed, the likes of mobile network operators (MNOs), hyperscalers, and local managed service providers/SaaS players are likely to be the early customers.
Edge Centres has secured contracts with the likes of local IT & ISP players, while Leading Edge says its initial customers include regional businesses such as manufacturing & distribution as well as government and telcos.
"What we're seeing initially, which is what we anticipated, is telcos, ISPs, retail service providers," says LEDC CEO Chris Thorpe. "We've really built these facilities with government in mind: if it's good enough for government, it's good enough for everybody else."
"Last year for us was extremely challenging with Covid. This year, completely different; we're seeing a very different sort of open-minded approach to the edge, which is now very much becoming accepted."
"We've got quite a substantial MSP very close to launching on a multi-site deal. We've got a tier-one telco on board as well."
Thorpe says LEDC is close to launching its own private cloud that can be used for small medium and large enterprise in partnership with an as yet unnamed 'significant cloud partner'.
"This is where we really see the ecosystem evolving; initially with telco and then building out with ISPs, RSVs, and major cloudn providers as well. And that's that in turn is going to start bringing enterprise in en masse."
As the 800-pound gorilla in the data center space, the fact that DigitalBridge is interested and investing in the Edge is seen as a boon. Executives in Europe have told DCD that the company's investment in the AtlasEdge venture alongside Liberty Global has helped raise the profile of the Edge with investors and customers, and the same effect has happened in Australia.
"It's made a big difference. It's definitely been a milestone moment for us," says Thorpe. "Even from an institutional investor
perspective, we've got a stack of inquiries coming through now. But also from a client perspective, it adds a layer of credibility as to 'well this is really happening'."
Even Edge Centres' CEO Jon Eaves acknowledges DigitalBridge's investment in Leading Edge has been good for the local industry: "It's validated the Edge, I think. DigitalBridge blessing a particular technology legitimizes it."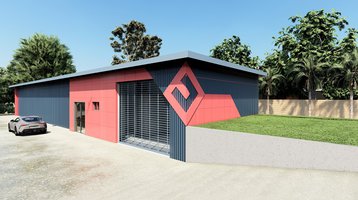 Is Australia big enough for more than one Edge player?
As previously mentioned, Australia is huge geographically, but has relatively little existing data center build-out compared to Europe or the US. But the need and early demand for the Edge is already there and could help spur further development.
"People in regional Australia, which is a third of the population of Australia, have had a serious challenge accessing cloud-based services, which is why the penetration is still quite low," says Thorpe.
"You've got these vast distances with no credible data center facilities. There's no credible, resilient place to have serious IT infrastructure, and that's exactly where the opportunity is; I think if anywhere in the world is suited for an Edge network, it's Australia."
"Sovereignty is becoming a massive issue over here. Where is your data; is it held in Australia or in the States? You need to know as a company director exactly where your information is held."
Despite the vast geography, the population of Australia is small, especially outside the existing hubs. Is there enough room and demand to allow multiple Edge players operate within the country? Both Eaves and Thorpe say probably not.
"Australia's a tiny market," says EC's Eaves. "We've only got 25 million people, the towns we're building in have never even had a data center."
"You look at the size of our cities, region by region, you're probably talking 2-300,000 people," adds Thorpe. It's not a huge capture in each location, so that first mover advantage is really critical."
Though their offerings are all different – pre-fabbed containers for DXN, solar-powered pods for EC, and Tier III designs for LE – is there enough differential between the market players to create a leader?
"I don't think anything separates us at the moment. There's three companies all going after the same market," warns Eaves. "What Leading Edge offer, what Edge Centres offer, what DXN offer are all the same, which is detrimental because then it becomes the race to the bottom which is obviously price.
"This is effectively a land grab; we all want to position ourselves as an Edge player in a particular country or a particular location.
There's also the long game that you've got to be able to manage that out. There's a lot of companies talking about going to the Edge and I look forward to there being more partners and more competitors in the space."
If more players enter the space, we're likely to see some consolidation and failures: Earlier this year Edge Centres acquired fellow local Edge player DC Matrix, adding two facilities currently in development in Sippy Downs, Queensland, and on the Gold Coast, to its portfolio. In the US, early Edge data center startup EdgeMicro entered liquidation late last year.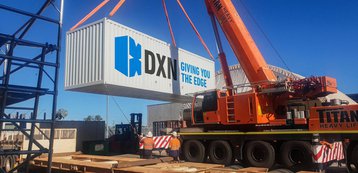 The APAC Edge
Beyond Australia, Edge Centres is heavily focused on expanding in Asia, which the company predicts could be more of an opportunity in the long run.
"The regional areas of Asia are as underserved as the regional areas of Australia," says Eaves. "But there is no competitor; there is no DXN or Leading Edge in Asia, they are very much focused on the hyperscale towns."
Edge Centres is developing facilities in Kuala Lumpur, Malaysia, and another in Vietnam's Ho Chi Minh City. It is planning further sites in Johor, Ipoh, and Penang in Malaysia, as well as at locations in Indonesia, the Philippines, Japan, and three locations in Vietnam.
There is, however, some competition for the Edge in APAC: DXN has delivered containers to Palau and the Cocos (Keeling) slands for cable landing stations, while Turbidite – an APAC-focused Edge player led by former Global Cloud Xchange CEO Bill Barney – has a presence in Guam and Hong Kong.
"With the emerging markets of Asia Pacific set for solid growth in the next wave of digital transformation, and a huge gap in
highly connected, safe data centers, we believe this is a perfect time to build our footprint in the capital cities of the key emerging Asian markets, then expanding to the second tier developed markets," Barney said last year.
Thorpe says LEDC is currently focused on Australia, though it has had 'some discussions' about projects overseas.
Edge later; what will it look like?
It was 2018 when Michael Dell said "the Edge will be bigger than the cloud." Whether that will be true in the long run is still unclear. So too is the route to get us there.
Will 5G be the major driver of Edge use cases? The 'Metaverse'? Gaming? IoT? No one is sure, and none have yet taken off in a way that could sustain a new segment of the data center industry.
"There's definitely a 5G arms race as far as trying to get some 5G connectivity out there. But as far as business applications, I think that will be a little bit slower," says Thorpe. "The carriers are still trying to work out how they're actually going to make money out of it."
"We don't have a true Edge customer because we don't really know what defines an Edge customer yet," adds EC's Eaves. "We've got people using compute in the region, but that's not necessarily for Edge; it's just that they don't want to have to drive it to Sydney when something goes wrong."
"I have my money on the hyperscale really being the Edge customer," says Eaves. "Because really all the Edge is doing is filtering heavy workloads that are then transferred back to the cloud anyway."
Eaves also says over-the-top providers (OTTs) like Facebook as well as major streaming services will likely be future customers.
Thorpe adds that agri-tech may also be a large customer of the Edge in future, especially in the likes of Australia where farms can span thousands of hectares. "It's a huge market. There's a lot of need for IoT out there. The whole ag-tech sector, I think absolutely will be red hot. But not just yet."
"I think the Edge is in its infancy," concludes Eaves. "We're all still pre-Edge. What the Edge is right now is not what it's going to be; I still don't think any of us know what it will look like in 2026." 