5G has been heralded as the future of technology, with its quicker speeds, shorter latency, and greater efficiency.
Sure, there was 3G, and 4G before this, but the telecoms world has made a big noise about 5G and why it promises to be a game-changer.
Since the launch of the next-generation connectivity in 2019, markets worldwide have adopted 5G, with most smartphones released in the last two years being 5G-compatible.
5G mobile connections could surpass one billion by the end of this year, according to analyst firm CCS Insight. This number is expected to explode to 4.5 billion by 2026, with China tipped to lead the way.
Another analyst firm Counterpoint Research recently revealed that one tipping point has been reached: in the second quarter of 2022, more 5G smartphones were sold than 4G mobiles.
Relationship with Edge
So 5G is already having a big impact on the telecom industry and reaching consumers. At the same time, as a fast data solution located close to data sources and connected directly to devices, it's obvious that 5G will tie in closely with Edge.
Finnish vendor Nokia says that 'cloud-native Edge infrastructure will be essential to enable the successful implementation of 5G', noting that it will support new, advanced use cases powered by network slicing capabilities.
Meanwhile, STL Partners, a telecoms consultancy firm, has been pretty busy about why 5G needs the Edge.
In a report, Tilly Gilbert, principal consultant and Edge practice lead at STL Partners, notes that Edge computing will reduce latency on the networks.
To achieve ultra-low latency, necessary for use cases like autonomous drones or remote telesurgery, the combination of 5G and Edge computing will be necessary, especially in the long term.
Another key benefit of 5G for Edge computing is that it can enable operators to change their backhaul business models, adds the report. It will allow data to be filtered at a local edge site, with whatever data is necessary being stored in the centralized cloud after being analyzed and rationalized (an architecture also referred to as multi-access Edge, computing or MEC).
5G has been a slow burner?
But where are we at with 5G currently? Nokia senior director of sales engineering Fayyaz Patwa told DCD's Stephen Worn that "the complexities around 5G mean it will take time" for 5G to take off fully. He made the comments during a fireside chat, titled 'Why has the rollout of 5G not been as easy as expected?'
It's also the case that proponents in the telecoms industry may have raised hopes too high: "Part of the reason we haven't met expectations with 5G, is because I, myself, and the team included have been beating the drums on 5G since about 2015, and we've set high expectations," said Patwa.
"1G through to 4G was primarily user-centric and data-centric, but 5G is very different, it's not just about consuming large data and speed, it's about latency and reliability. It's a game-changer and to achieve these advanced 5G features requires the complete architecture to be redesigned. 5G requires a complete redesign."
His comments were echoed by Viavi Solutions CTO Sameh Yamany, who adds that the industry needs to be patient.
"It's a great time to be in this era with 5G coming in, but there's a lot of expectation with 5G and we need to understand that it's complex technology.
"It's promised a lot and people were expecting a big change, but we need to look at the reality. There's been a lot of complications such as spectrum availability, device availability, and how 5G is different from 4G architecturally and 5G requires a lot of different phases to go in."
Yamany adds that while 5G will deliver greater speeds through its lower latency, and greater bandwidth, this isn't the thing that people should be excited about.
He sees a bigger picture: 5G will drive the next industrial revolution, he says.
"Here is the reality, 5G will bring speed and that's what people will love, but that's not what 5G is about, it's about the connecting of machine-to-machine (M2M) and driving the next industrial revolution."
He explains further that 5G will be crucial to the use cases that are expected to explode in the coming years, including private 5G networks, utilities, railways, aviation, Industry 5.0, and the education sector.
Hurdles around 5G
Delving a bit deeper into the topic of 5G, Worn asked the duo about the key hurdles 5G has faced to date.
Both further addressed challenges around the spectrum, notably in the United States with the Federal Communications Commission (FCC), plus conflicts over 5G around airports, says Patwa.
"In the race for 5G, the US is behind," he observes, but to offer a dose of reality, notes the vast size of the country, plus the different types of terrain within the States.
However, he does believe the US has been slightly behind with the rollout, despite US operators spending over $80 billion of spectrum in the C-band.
Patwa thinks that in some areas, the FCC is part of the problem: "The other challenge is the FCC. We feel the FCC has fallen behind in allocating spectrum C-Band which is referred to as beachfront spectrum [i.e. attractive property] in the race for 5G. It was auctioned about a year ago and the carriers spent billions. And then we ran into this airport and FCC issue, which slowed down the rollout even further."
He's referring to the FCC's skirmish with the Federal Aviation Administration (FAA) late last year, which concerned spectrum in the C-Band. The FAA warned that 5G transmission within this band might interfere with flight safety.
The fallout from this was enough to delay AT&T and Verizon's planned rollout of 5G services in the C-Band, near airports. The FAA noted that its radar altimeters use spectrum in the 4.2GHz to 4.4GHz band, while US operators were anticipated to operate uncomfortably close to that in C-Band n77 spanning 3.3GHz to 4.2GHz.
Subsequently, AT&T and Verizon agreed to delay the full rollout of their 5G networks until July 2023 in order to allow airlines more time to mitigate fears of interference.
The Americans aren't the only ones that have had issues with the 5G rollout, with German Open RAN newcomer 1&1 recently delaying its own 5G rollout by six months.
And in the UK, Ericsson's UK public head of affairs Patricia Dooley told a panel at this year's Connected Britain event that the nation needs to show the same enthusiasm for 5G, as it does for fiber.
"I'd like to see the same level of enthusiasm for 5G rollout as there is with fiber roll-out," she said.
"I'd love to see Liz Truss talking about 5G connectivity and fiber connectivity. I think it's really important that there is support there for the operator community, both large and small to deploy this network everywhere and quickly."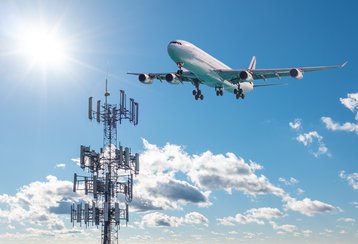 Different architectures
Yamany agrees that the spectrum issues haven't helped, but adds that 5G represents a complete 'architectural change' to those before it.
"5G is bringing a lot of architectural change, and maybe (in the future) 6G will be the continuation of 5G Advanced, focusing on non-terrestrial networks. There have been complicated political and environmental barriers around the world to 5G deployments. 5G is moving from being for consumers to being for machines.
"The blessing of 5G is also its curse. It's moving to industries, but these industries are moving at their own pace and have their own standards to meet," says Yamany.
Speaking to DCD, Nokia head of wireless networks Jane Rygaard had a similar opinion, noting that the architectural change to 5G is something that cannot be overlooked, with the move from a centralized network to a network edge that is highly decentralized.
She notes that the industry spent 15 years centralizing all the existing networks but is now looking to decentralize these networks, as they are easier to scale and provide better system reliability and security.
Use cases
As for the use cases, there's a range of sectors anticipated to grow in the coming years, from remote surgery to things we're already seeing such as cloud gaming.
Another industry is agriculture, which Dell Technologies UK networking director Lee Larter tells DCD can be pivotal for sustainability.
"There is an abundance of opportunities around 5G and Edge. Some sectors have many options, for example, farming and agriculture. When we use Edge solutions to understand farming better, we can reduce waste, and optimize more sustainable methods."
Larter adds that 5G will transform many industries once it's fully available, and should be a key focus for the UK government in its approach to 'Levelling Up' the UK's economy.
"Once 5G is available everywhere, it will give us reliable and dedicated connectivity that could help to transform many industries. It would also help to address some of the imbalance that the government is trying to even out with its leveling up agenda."
Another use case that Dell boasts about is its partnership with the Formula 1 racing team McLaren. The company is able to "leverage its data which is turned into new innovations that help McLaren improve their performance", says Larter.
"Modernized connectivity is essential for getting the best out of Edge solutions," adds Larter.
"All these use cases require exceptional levels of information flowing, which requires very low latency without delays. 5G is an expanded, low latency, high-performance network that captures all this real-time data for business advantage."
Metaverse is closer to reality
The Metaverse will also become more of a reality thanks to advancements in 5G and Edge, says Rygaard. Or Metaverses, because it's plural and won't just be one, she said.
This virtual world that exists online will be made up of different websites, social media platforms, and games to create cyberspace. It's something that Facebook founder Mark Zuckerberg is looking to push.
But 5G and the Edge will play a key part in bringing the Metaverse to life, Rygaard says, as virtual reality (VR) and related technology will rely on the lower latency of 5G, which is a critical enabler to bring this virtual futuristic world to life.
Rygaard: "I think the most significant part is how do we from a security and privacy perspective, make sure that we have data available in the right places for the right reasons?
"The more we build physical systems in applications, the more we can talk about the Metaverse going forward. The Edge plays a massive role because we bring applications closer to where they make sense."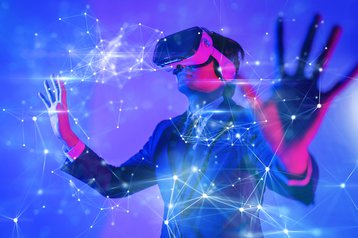 Need to modernize
Without the Edge, organizations will fall behind, adds Larter, who warns that businesses will need to keep up to date.
He argues it's impossible to ignore, with many smart household products using data. Data is critical for the future, and how we use it will be even more important. Again 5G will be important in this.
"Organizations are going to need Edge to remain competitive. If businesses don't start modernizing and using these new technologies to their advantage, they will be left behind.
"It will become imperative for them to modernize and make better use of the data they're generating. But to do this well, 5G is needed."
On the subject of smart home devices such as Alexa, Larter warns businesses to figure out the best way to get vast amounts of valuable information from these devices while ensuring they're protected and connected to other data sources.
"When you have more data, you have a more extensive threat surface area, which needs protecting. With Edge, hackers can look for vulnerabilities across various devices rather than within the data center, which means we must create new security solutions."
The advances in Edge and 5G will bring opportunities for businesses, says Larter. He adds that with the new technology capabilities, will come a new generation of digital skills.
"With 5G and Edge, come new digital skills and opportunities for future generations. Even when leveraging this new technology and collecting valuable datasets, we need human input to structure the information and create the right business outcome."
Quite what these digital skills turn out to be is not clear yet, but a burgeoning community is working on it.
In any case, there is little doubt that the future could be very exciting if all the promises made for 5G, Edge, and related technologies turn into reality for businesses.