All enterprise data will be stored in the cloud by 2025 Oracle leaders predicted at the annual OpenWorld conference held in San Franciso – and repeated a promise from last year that Oracle will overtake Amazon Web Services (AWS) as the cloud leader.
But while Oracle's chairman Larry Ellison boosted Oracle's products with bombastic claims that were quickly refuted by Amazon, it was left to CEO Mark Hurd and president of product development Thomas Kurian to put forward a more measured case, based on getting the apps right first. And the company's Asia Pacific vice president promised locations in new countries, following Oracle's arrival in China and Australia, and recent announcement of a facility in India.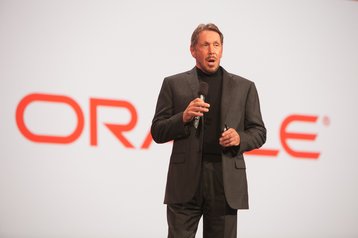 Larry being Larry…
Larry Ellison fired off a claim that AWS's Redshift database is not elastic, which AWS dismissed as "factually incorrect". He followed this with a flurry of product claims, including a comparison designed to show show the Oracle database was far cheaper to run. 
Ellison said that heavy analytic workloads would run much faster on the Oracle than on the AWS system, claiming this made it far cheaper. However, in the real world, users don't switch off a database and give it back to the vendor when a query is complete, so the comparison was flawed.  
"Most people know already that this sounds like Larry being Larry," said the AWS response. "No facts, wild claims, and lots of bluster."
Two hours of Ellison keynote presentations did little to advance Oracle's case, but the company has genuinely made progress in its delivery of cloud services. CEO Mark Hurd has oversold the Oracle cloud in the past, but this time round made the argument on the basis of the company's investment and its delivery of products.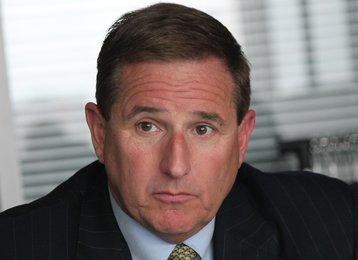 You Hurd it here
"We've taken no shortcuts, we've increased our research and development, and built new [cloud] infrastructure," he said. "Our strategy is really to build the apps, the platform and the infrastructure. To get the apps right first, and really build up our infrastructure capabilities. And enable customers to be able to shift to the cloud, or start in the cloud."
Technology innovation and consumer adoption are increasing faster than IT can keep up, said Hurd, and the pressure on CEOs everywhere is growing. Yet IT departments continue to be burdened by the need to maintain legacy systems and applications, resulting in 80 percent of IT budgets being spent on maintenance alone.
Unsurprisingly, this often eats into the budget earmarked for innovation, itself being eroded by other urgent concerns such as security. Moreover, IT budgets are also shrinking in the face of pressures stemming from today's highly-competitive business climate, trapping enterprises in a vicious cycle as existing systems age.
As Hurd sees it, the solution lies with the cloud and its ability to turn the dynamics of how IT is deployed on its head. Enterprises could use it to tap into a world of sophisticated applications without having to deploy their own infrastructure or data centers, he notes. "With the cloud, that work is done for you."
The Oracle Cloud
Getting a handle on Oracle's cloud philosophy requires understanding Hurd's mentality towards traditional IT. Hurd calls out the elephant in the room here, pointing out how enterprise IT departments are often tasked with integrating a smorgasbord of technologies from disparate vendors that don't necessarily work well together.
Our strategy is to get the apps right first, and really build up our infrastructure capabilities

Mark Hurd, Oracle CEO
"[This is] accentuated by the procurement strategy, resulting in an exponentially complicated environment that is now left to the IT staff to put together. That resulting solution that is built must also be maintained, supported and hopefully innovated, and it becomes extremely complex. Then you try to secure it, patch it, that's why these things become so complicated," he said.
The Oracle cloud attempts to address this with a comprehensive stack of capabilities and services designed to interact natively with each other. In addition, Oracle's cloud applications can be deployed in a variety of ways, including on-premises, on Oracle's public cloud platform, or as a managed private cloud – known in Oracle parlance as "cloud at customer".
Beyond Infrastructure-as-a-service (IaaS) capabilities, Oracle also offers a rich suite of software-as-a-service (SaaS) and platform-as-a-service (PaaS) offerings. Indeed, some products could even be deployed on a rival platform such as the AWS cloud.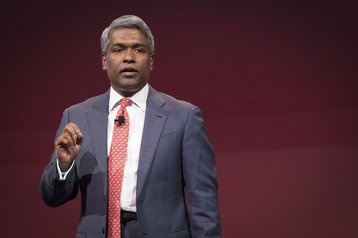 Solving problems quickly
The tight integration means that new services can be rapidly deployed within the Oracle cloud, noted Thomas Kurian, the president of product development at Oracle who oversaw a series of demonstrations conducted on stage on Tuesday. This included the provisioning of a bare-metal GPU server, deploying an environment for machine learning, and finally using it to train an AI model for image recognition – all within minutes.
In another demonstration, a new project was set up to pull in social media updates from Twitter, Facebook and Instagram with a series of mouse clicks. The requisite infrastructure was provisioned and launched automatically, and the database rapidly populated with 146 million rows of data. While Oracle did not share the cost that customers can expect to pay, there is no denying the speed and ease of deployment shown.
"The fundamental difference between Oracle and other companies is the software stack we offer on top of IaaS… Oracle has ample experience with analytics platforms, business process automation, as well as SaaS applications. While IaaS competitors are trying to build the software, we have been in that game for a [much longer time]. Our belief is that our richer offerings will help us differentiate our cloud," said Kurian in a media briefing that DCD attended.
Playing the long game
Could Oracle have benefited from its comparatively late entry in the cloud? After all, at least one of the technologies glimpsed during the keynotes – TensorFlow – was only released by Google as an open source project barely two years ago.
While IaaS competitors are trying to build the software, we have been in that game for much longer 

Thomas Kurian, Oracle president of product development
"A lot of things we talked about today were in development for a very, very long time. We were looking at two dimensions or horizons for product development: what we see within the next three years, and another within eight and 10 years," said Kurian in response to a query from DCD.
"The work that we showed today around AI, IoT and blockchain, that work started four, five, six years ago. And they have been worked on for many, many years before we felt that they had the maturity [for us] to bring to market," he said. "People assumes that work on new products we talk about started after the previous OpenWorld. That's not true. Many of these have been in development for a long time."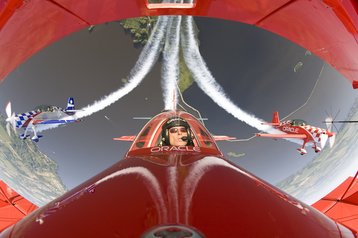 Cloud for all
Oracle's multi-faceted approach is probably the reason why it adopts a relatively low-key approach to the launch of new regions, unlike some of its cloud rivals.
Having a local presence is "not going to fix everything" said François Lancon, the senior vice president of Oracle in the Asia Pacific, though he acknowledged that it can address regulatory concerns and latency issues. "We are expanding, adding new data centers. Australia is completed. China is completed. We do have regions planned in some other countries," he said.
"We now have the opportunity to move to the smallest companies in the world. To give them the technology that the biggest companies have, with no labor involved in many cases because we do the work for them. It's been a big change in the industry. Now a company of any size can take advantage of Oracle technologies," said Hurd.