NTT Communications CEO Tetsuya Shoji announced plans for aggressive expansion during his first visit to London since taking charge of the company in June.
He said NTT Com plans to grow its data center floor space from 214,000 square meters in 2014 to 349,000 square meters by the end of 2015, while maintaining the quality of service that the company is known for.
Shoji discussed the acquisition NTT Com plans to make in Indonesia, announced that its latest data center in the UK has been delayed, and offered details on the 'next-generation cloud platform' the company expects to launch by December.
Out of control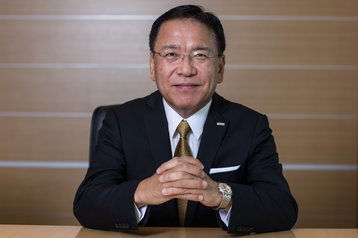 NTT Com is a subsidiary of the Nippon Telegraph and Telephone Corporation - one of the world's largest telecommunications companies by revenue. It dominates the Japanese market - and according to research by DCDi, Japan is the leading nation in Asia for data centers, with a whopping 3.4 million sq feet.
Shoji assumed the responsibilities of president and CEO of NTT Com in June. He has been working for the company since 1977 - among other things, he established the NTT Deutschland GmbH soon after the fall of the Berlin wall in 1991.
A self-confessed fan of motorsports, Shoji said his personal motto was borrowed from Formula 1 champion Mario Andretti: "If everything seems under control, you're just not going fast enough." In line with this philosophy, he unleashed a barrage of announcements about NTT's upcoming products and strategy going forward.
"Sprawling ICT estates across multinationals prevent business transformation. They reduce speed and add unnecessary complexity," he said. "Our role as the global ICT partner will be to reduce this friction.
"Where we continue to invest is growth areas – data center services and cloud services."
Shoji said NTT will continue making major acquisitions like the recent e-shelter purchase, which completed this month. For example, later this year the company will be buying a yet-unnamed data center operator in Indonesia.
"In this market, we have been looking for land and real estate for several years – it is a good environment for us. But because it was difficult to find, we have made the judgement that it is quicker to buy a company that already has a data center facility," explained the CEO.
Following the acquisition of British data center operator Gyron, NTT will be looking at bolstering its presence in continental Europe next, especially the regions where it doesn't already have assets.
Shoji admitted that the opening of a new data center in the commuter town of Hemel Hempstead, 30 miles northwest of London, has been delayed. The facility was originally expected to go online in June, but will now welcome its first tenants closer to the end of 2015.
In addition, NTT will continue growing its cloud: the company offers cloud services from 13 locations in 10 countries, but will add new facilities in Spain, India and China before the end of the year.
The CEO also teased a 'next-generation cloud platform' - actual name yet to be announced - which will complement NTT's existing public and private cloud services. This platform will combine physical and virtual servers in a single environment, and will be launched sometime in December.
"This cloud is much more enterprise-oriented, so for example we can provide a bare-metal service or hosted private cloud services," added Motoo Tanaka, SVP of Cloud Services at NTT Com.
Also from December, NTT will offer customers free bandwidth on a 10G network between 40 of its data centers – an approach which was pioneered by IBM's SoftLayer. Unlike SoftLayer, NTT will not limit the offer to public cloud data centers, but include colocation facilities too – something it says is a first for the industry.
"SoftLayer is threatening our business because they are also providing network services in addition to cloud services, so we have to do something to compete with them," explained Tanaka.