Infrastructure maker Panduit started in 1955, based on Jack E. Caveney's patented wiring duct system. Now it is investing in fiber research, for a major push to displace copper in networks.
The Panduit name comes from Caveney's invention that combined panels and conduits. Mounting a panel conduit to a control panel was tricky as the lid could slide and hinder its functionality, but Caveney developed the Panduit wiring duct to solve the problem. Since then the company has continued research and development, mostly keeping it behind locked doors, but last month DCD got a rare glimpse of its research and development laboratories near the company's headquarters in the Chicago area. Apparently it now wants more visibility.
Forward thinking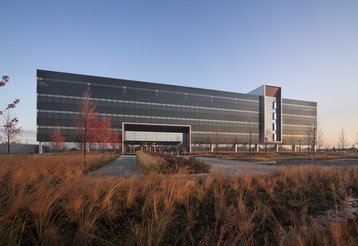 "We have in the past kept everything close to the vest… we had our reasons for that but we're moving to a new era. We're hoping to transition from being known in a small subset of customers to getting much broader recognition," Donovan said.
The company is focused on the data center marketplace, according to CEO Tom Donovan, the company's chief executive. It works with tech companies and supplies "all of the infrastructure, the cabinet, the software, the power controls, the fiber cable, the patch panels, the labels, power grounding, design services, deployment services" for EMC's converged platforms division VCE.
A lot of Panduit's innovations come from the Jack E.Caveney Innovation Center in Tinley Park, Illinois. A 250,000 sq ft facility, it has 60,000 sq ft of laboratories, dedicated to cabinet and rack development, copper cable development, DCIM products and a fiber cable development lab.
The fiber team was front and center for this visit. Staffed with postgraduate and PhD level engineers, it has clocked up 870 patents in the US, and 1,830 either granted or pending worldwide.
The group was recently bolstered with a group joining from Bell Laboratories in Illinois New Jersey, when then-owners Alcatel-Lucent made cutbacks around the year 2000. The move brought a combined 30 years of development expertise into the company, according to Donovan. Bell Labs' heritage goes back to the Volta Laboratory and Bureau, founded in 1880 by Alexander Graham Bell, and its inventions include the transistor, the laser and operating systems Unix, Plan 9 and Inferno.
New hires from Bell Labs included Ron Nordin, now director of research at Panduit's laboratories, and Dr. Rick Pimpinella, chief engineer at its fiber research department.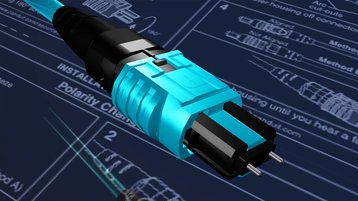 Making the case for research
Pimpinella says it can be difficult persuading financial controllers to put money into research when there is often no immediate return on investment: "It's difficult for the company to understand why we need to work at things at this level." The team has made plenty of discoveries, but some won't pay back for as many as five or six years, he said: "You have to invest in the future."
To take one example, Panduit's Signature Core fiber extends the reach of multimode fiber to 150m, is a recent arrival in products, but based on on research from some time agao: "The signature core fiber that we're now doing quite well we started ten years ago," said Pimpinella. "We didn't sell any of it until about three years ago."
The Panduit lab's work stands alongside university research, and it has already collaborated with the likes of Stanford and Georgia Tech.
Marc Naese, director of Panduit's data center product line, says the work being done by Pimpinella and his colleagues is one of the company's key defining strengths. "It's a huge competitive advantage for Panduit to have the technology and research and equipment, which means that we're able to really understand the inner workings of fiber with that ten-year outlook," he said.
Return on investment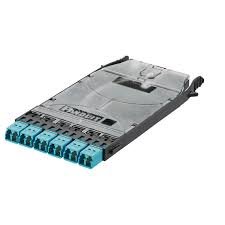 The company is particularly proud of its PanMPO fiber connector, released in August 2013, based on work from its labs. The device aims to make the migration from 10G to 40G Ethernet easy and cost-effective, enabling the technician to change polarity and gender of the connector within seconds with a small pin-like tool.
It entered development six years ago in tandem with Cisco, one of Panduit's business partners. Panduit invested millions of dollars in its creation, but only last year began to see serious sales of the product.
More recently Panduit has developed the HD Flex 2.0 fiber cabling system, which will be shipped in August, and has already been instrumental in some big wins for the company, it says.
The product enables port migration from 10 to 25, 40, 50, and 100 gigabit per second (Gbps) Ethernet and accommodates fiber cassettes and fiber adapter panels with different port counts. It is marketable primarily because it allows scalability for IT managers to increase density as it is required, without having to replace existing fibers.
Fiber to the future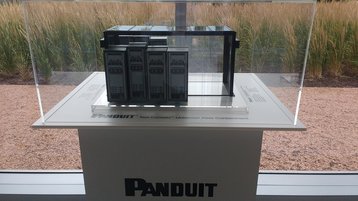 This investment is relevant because of fiber's increasing importance in the future of networking, said Naese: "People need faster speeds, copper is starting to hit end-of-life, so fiber is going to be the transmission choice of almost all data centers."
Pimpinella's team is currently working to achieve greater communication speeds, and has made progress on developing a wideband multimode fiber that works at a rate of 100 Gbps over 100 meters by using multiple wavelengths.
And having research and development space in which to experiment is partly what gives the company extra relevancy compared to competitors, Naese says. "Panduit's differentiated value is we're interoperably testing the issues out in our labs as proof of concepts and then showing them to customers, to ask: 'Is this how you would deploy them?'
"We learn from them, understand how to best deploy it to reduce time of installation and improve design of the product."