Greek data center operator Lamda Hellix won the Datacenter Dynamics Award in the Service Provider category for its Athens-2 facility, a leading data center in South Eastern Europe, and one of only a few in the region to receive Tier III certification.
The company chose to expand its data center campus in Athens to meet a strong demand for premium interconnection and carrier neutral services in the region, despite Greece's financial crisis. Alexandros Bechrakis, Lamda Hellix's commercial director, only sees growth, he told Datacenter Dynamics: "Greece has been in a deep crisis for almost six years now, and every one of these years has been the best year of the company."
What doesn't kill you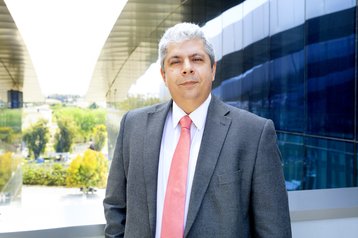 During recent years the need for data center services in South Eastern Europe has grown steeply. The demand has been for scalability, efficiency, a reliable supply of power, and low costs. Athens-2 was designed to tackle these challenges while having a low impact on the environment.
To achieve its goals, Lamda Hellix decided to adopt a modular approach so it could scale up at a short notice and keep the environmental effects to a minimum. The first phase was designed to support 500kW of equipment, stepping up in phases to 1.5MW.
It was decided to aim for a 100 percent uptime policy to ensure that customers could be offered up to 99.999 percent availability service levels with confidence. The power infrastructure relies on a modular UPS system which increases in line with the phased approach.
Energy efficiency is always a major concern, and this is especially true when cooling systems are combined with Athen's Mediterranean climate. Energy consumption calculations used annual local weather data for the past 10 years and the performance of different cooling methods was evaluated in relation to the partial loadings based on the phased growth plan.
Athens-2 employs evaporative cooling. A pump circulates water from a reservoir to wet a cooling pad installed around each chiller. Then the chiller's fans draw ambient air through this moistened pad, cooling it as the water evaporates. Evaporative cooling pads provide significantly decreased ambient temperatures and this improves the chiller's energy efficiency ratio (EER) and with considerable power consumption reduction. Evaporative cooling pads operating at high ambient air temperatures (>30°C) can result in electricity savings up to 40 percent.
Lamda Hellix has just received USGBC LEED v4 Gold O+M (operation and maintenance) certification for Athens-2. The data center is expecting LEED v4 Gold BD+C (building design and construction) certification in the coming months and could become one of the first facilities in Europe to receive it.
Bechrakis emphasized that the design, development and completion of Athens-2 has taken place through an incredibly challenging period for the Greek society and its economy. Far from being the wrong time, he said that the situation made it clear to both the engineering and the management team that they had to design and construct the new data center meticulously and fully aligned with a set of objectives that would allow it to be successful in a distressed and unforgiving market.
He claimed that the 13-year old forerunner, Athens-1, had achieved 100 percent availability and it was essential to replicate this with Athens-2. "This is why our consulting and integration business unit pursued the development of a data center that would adhere to Uptime Institute's Tier III certification," he said. "We have received the Tier III certification, becoming the only carrier-neutral data center in Greece and one of the few in South Eastern Europe with such a high-level of certified availability. Energy efficiency was also a key objective, facilitating the delivery of services that are economic and environmental friendly. "
The approach taken was to engineer efficiency into the data center from the outset instead of pursuing it after operations commenced. The design and equipping of Athens-2 was made with USGBC LEED compliance in mind in the belief that energy-efficiency would result in cost-efficiency. Bechrakis admitted that the pioneering use of free cooling, a well-accepted practice in northern countries, can only be financially justified under specific circumstance in the hotter climes of Greece, and can only be implemented when the IT load of Athens-2 reaches a specific threshold.
The planning team at Athens-2 continually evaluate the overall performance of the facility from the data collected to discover areas where improvements can be made in the pursuit of the lowest possible PUE.