Huawei has announced Data Center 3.0 (DC 3.0), an upcoming architecture, alongside a list of improvements to current data center equipment. The company gave DatacenterDynamics a look at present and future designs at the CeBIT show in March. 
DC 3.0 is a futuristic concept designed to pack a whole data center's worth of processing into a single, entirely software-defined box - and Huawei has a roadmap to get us there in a few years. Meanwhile, it has plans to federate data centers, to improve on resilience procedures, and to sell two distinct kinds of modular data centers.
At the 'DCD at CeBIT' event in Hannover, Germany, DatacenterDynamics had a tour of Huawei's products from Fang Liangzhou, vice president of Huawei's network energy product line, and Sanjay Sainani, regional vice-president for the Middle East.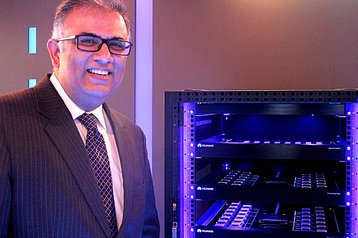 The future is bright?
"Currently you have stacks and stacks of x86 processors, each with its own network and storage," said Sainani. This changes in DC 3.0, he explained: "Instead of looking at a CPU as a CPU, we will look at it as a data-centric processing unit (DPU)."
DC 3.0 is based around "resource disaggregation", having a flat configuration, with separate pools of storage and compute. They can be split apart because silicon photonics will allow data to flow at terabits per second (Tbps) between the pools. 
The "data centric" architecture looks intriguingly like something which would run Hadoop clusters or similar systems well.  
Each DPU contains multiple CPUs, embedded close together with no latency. But the biggest effort will be in the software which can manage millions of nodes and provision services in real time. 
This is truly at the concept stage, and has a lot of similarity to other ideas such as HP's photonics-linked proposal called "The Machine". With Huawei (and companies like IBM) in the race, Sainani said HP will have to rename it "A Machine".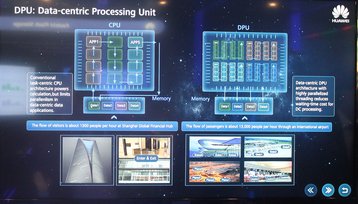 Do we need it? Huawei predicts that in the next ten years individual data consumption will reach the petabyte level. Moving to a disaggregated photonic-linked architecture will allow data centers to keep up - but also cut their energy demands and increase their automation.
Firewalls and containers
The march to DC 3.0 starts with today's products, and Huawei has been busy in recent weeks, with modular systems designed to improve the workings of current data centers.
At CeBIT, Dr Fang explained Huawei's distinction between indoor modular systems and outdoor modular data centers, which are essentially containerized units in standard shipping container sizes - and which are being sold in Europe by T-Systems. Both use the same modular rack, cooling and power.
"Containers originally seemed to be specific for remote areas and hostile environments,"said Dr Fang. "Now they are modular and can be more sophisticated. The market for outdoor containers is growing, but I don't believe it will overtake indoor data centers."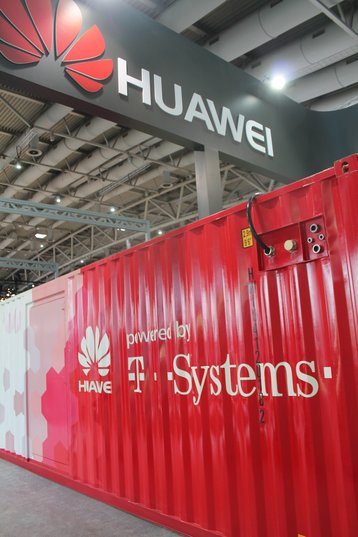 Outdoor containers are good for a quick or temporary build, for instance where an oil company or mining outfit will set one up near a new geological find, and then move it on when it is no longer needed. They are also good for backup, and Dr Fang recommends them for situations where a data center needs some short-term extra capacity, for instance looking after the old virtual machines during a major upgrade.
Monitoring is done by a part-wireless system to enable the massive numbers of sensors that can be used in the Internet of Things. "Some key information, that needs to be transmitted reliably and securely goes by cable, but temperature and humidity sensors use wireless."
Huawei's DCIM offering can cover multiple data centers at the same time, and includes airflow modeling with computational fluid dynamics.
With enough data the system can spot faults before they happen, reducing the human cost. The trick here is to monitor the software as well as the physical kit. If a process fires up on a server, the data center can have two or three minutes' notice to increase the airflow before it warms up. 
Securing switches is another issue - Huawei claims to be the first vendor to put a next generation firewall (NGFW) on a single card, so it can be slotted into its CE12800 data center switch. It supports 40Gbps throughput, up to a million operations per second, and can run 1024 virtual firewalls.
Active-active backup
A major demonstration at CeBIT was of an "active-active" architecture, which provides continuous availability, without having to have a complete system in passive standby for disaster recovery (DR).  
While various vendors offer active-active, the Huawei system is particularly thorough, with an active-active design at six levels, including storage, computing, application, network, security, and transmission. At the storage layer, the active-active array feature can manage heterogeneous virtual storage resources, a dual-write function which operates across multiple data centers. The array set-up means it does not have an I/O performance bottleneck, has fewer nodes, and offers fewer risks. 
"It's a better use of resources," explained Sainani. "Every node acts as a primary node. There is no master-slave relationship."
Huawei's aim is to offer a service driven distributed cloud data center (SD-DC2), on show as a concept at CeBIT. The company uses FusionSphere - Huawei's OpenStack implementation - to offer compute and network resources, and enable multiple physical data centers to perform as one.
"You can set up virtual data centers as the business demands," said Sainani. "You don't need to worry where the compute and storage came from." The system also allows automated service level agreements (SLAs), which can manage load balance proactively. 
It's not Data Center 3.0 yet - but it's a step on the way.