NTT Communications (NTT) recently opened FDC2, the second phase of its Hong Kong Financial Data Center (FDC). The new building is just a dozen meters away from FDC1 that opened for business in 2013, and fiber optic connections support customers expanding from one data center to the other.
Located in Tseung Kwan O, the combined FDC project is a substantial investment that cost a total of HK$4 billion ($516M), and is NTT's largest data center complex in the Asia Pacific region. Two buildings and a control tower offers some 70,000 sq m of gross floor area, and the compound even has its own on-premise cable landing station.
We spoke with Taylor Man, who is the executive vice president of the cloud business division at subsidiary NTT Com Asia, to learn more about the design specifications behind FDC2, the increasing power density in data centers and Hong Kong as a data center hub.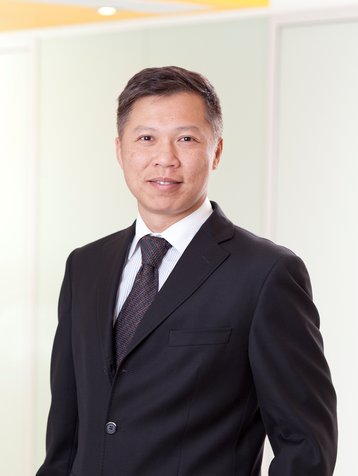 Increasing energy efficiency
As we noted in our earlier report, FDC2 incorporates a number of technologies designed to boost energy efficiency as well as reliability. These include a thermal energy storage system equipped with 3.6 million liters of chilled water, a front-flow cooling design with hot aisle containment that NTT says is more than 20 percent more efficient than traditional down-flow cooling with cold aisle containment, and a water-side economizer to take advantage of the weather in Hong Kong.
"Social responsibility is one of our key KPI within our group; we want to be greener," noted Man, when we asked about the design of FDC2. "By reducing [power], it helps our cost base, and also helps our customer," he said.
Man says the quest for greater energy efficiency is a win-win solution that all data center operators should seek. Indeed, the thermal storage system coupled with the more efficient cooling system in FDC2 means that the cooling infrastructure can deliver 42 minutes of uninterrupted cooling should the chillers encounter any hiccups.
"If you want to do anything other than 3kVA to 4kVA per rack, you [need to] have a way to cool that off in case your cooling system restarts due to power failure," explained Man, who noted that customers typically ask for a more stringent SLA and better availability. "Those big water tanks [and] economizers are to improve the overall availability… for high density deployments."
"Power is our major cost, or our customer's major cost [and will grow] more expensive. Implementing all those solutions to reduce the cost and use of power is going to do good to our earth, and going to give our customers a better ROI," said Man to DCD. "Technology is no use until you use it correctly. We're always looking at the end results and decide what technology to use."
Higher power density: real demand?
The scarcity of land in cities such as Hong Kong and Singapore points to a future of higher compute density in order to make the most of the space, which can only drive power requirements up. On that front, FDC2 was built with a high power density up to 24kVA per rack, and also support extremely tall racks of up to 54U to hold more IT hardware than before.
Yet it is hard to imagine that customers would be willing to swap out their existing infrastructure merely to take full advantage of the higher power density that FDC2 offers. So is NTT's strategy of rolling out support for such high power density in FDC2 based on actual demand, or just wistful thinking on its part?
"Customers don't go on high density due to legacy hardware such as cabinet and infrastructure. They don't necessarily want to change it," admitted Man. However, Man also noted that many customers do want to go higher, but typically run up against providers that may not have the power capabilities that they are looking for, or who can do so reliably.
The desire to take the first step out of this chicken and egg situation could explain why FDC2 offers 24kVA per rack, even though Man told us that the optimal cost per cabinet according to the company's calculation of existing compute hardware is currently at "about 8kVA".
For now, NTT is working to educate customers about the advantages of a higher power deployment. Man ticked a number of them off, such as a reduction in the numbers of racks needed, less clutter from wiring, better utilization of network switches and easier manageability. These translates into lower costs, as well as higher reliability due to the reduced complexity and fewer hardware servers and components that could break.
"NTT has always been trying to be on the top of the wave. Even though [not everybody is] doing that right now, we do believe this is going to be good for our customers," said Man on the topic of high power density deployments. "That's why we are doing that. I think many of our customers are already on our bandwagon. They already see the benefits; they want to do it."
Data centers in Hong Kong
Ultimately, Man is highly positive about the Hong Kong data center market, which a recent report from independent research firm Structure Research says is one of the most important in the Asia Pacific region.
As we noted before, Hong Kong's proximity to mainland China means operators are able to tap into the data center market on mainland China. And the fact that Hong Kong is governed under a legal system that puts it outside the Internet censorship enforced on the mainland means that Chinese tech businesses looking to expand into regional or international markets are likely to do so from Hong Kong.
"With the surge of telcos looking to exit the data centre business, NTT Communications has taken the opposite strategy and has instead built more data centers with its latest being FDC2 in Hong Kong," wrote Jabez Tan, a senior analyst specializing in data centers at Structure Research to DCD.
"NTT in particular has benefitted from a growing base to global enterprise customers looking for a more holistic set of IT offerings, with big name customers such as Microsoft driving the expansion activity in Hong Kong," said Tan, who also noted that NTT also offers "unique value propositions".
"We are now seeing that trend to stop anytime soon," said Man, referring to the idea of Hong Kong being a gateway into China and out of China. "We are very optimistic of [our] data centers in Hong Kong, and of the data center market [here]."