Last week, at its Next Horizon conference in San Francisco, AMD took the wraps off its new Radeon GPUs for data centers and cloud.
Showcasing the chip maker's return to the data center, Amazon Web Services (AWS) and AMD jointly announced the availability of Epyc CPUs-powered compute instances on AWS on AWS, and AMD gave us a glimpse of its upcoming "Zen 2" Epyc server processor.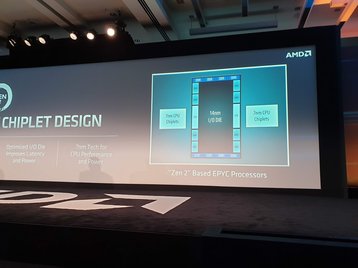 'Rome' Epyc processor
The preview came just a year after AMD first launched its Zen server chip heralding its re-entry into the server market. Codenamed 'Rome', AMD says the new processor is socket compatible with last year's Naple and will also be forward-compatible with the future Zen 3 "Milan" platform.
Socket compatibility aside, AMD has made substantial changes in Rome with a new "chiplet" architecture that combines a 14nm dedicated IO die with 7nm CPU modules. Unlike the first-generation Epyc processor which sees processor cores directly interlinked to each other, communication between processing cores in Rome takes place through the IO die that is powered by second-generation Infinity Fabric.
Mark Papermaster, AMD's CTO, said the switch to 7nm gives Rome a "huge" performance improvement, as well as a two-fold increase in compute throughput. He said: "Why 7nm? It drives significant compute efficiency. Density is twice. Power is [half] for the same performance. Performance is 1.25x for the same power."
AMD took pains not to mention specifics about Rome such as its clock speed and how it overcomes inherent memory-access issues with the new architecture, only saying that it offers twice the performance and four times the floating point per socket. The company did share that Rome will offer up to 64 cores for a total of 128 threads per processor or 256 threads on a dual socket machine.
And while the original Epyc uses a 128-bit data path, Rome doubles this to 256 bits, Papermaster explained: "We looked at what we could do at 7nm, doubling the density and half the power. Let's [build] on that success with floating point in Zen 2, let's double that up. We doubled the vector width, and we doubled how we feed it. We doubled the load store and the pathways [to 256-bit]."
Cheaper, faster. Better?
AMD was not shy about highlighting the value proposition of its Epyc processors to enterprises. Forrest Norrod, senior VP and general manager of AMD's Datacenter and Embedded Solutions Business Group, highlighted how Epyc processors helped organizations lower cost, pointing at how cost per core hour is 66 percent less with applications at Oracle thanks to their use of Epyc chips, as well as how Baidu was able to replace existing dual-socket systems with single socket AMD Epyc servers.
"Your administration, hardware and space cost drops. Your licensing cost also drops by 63 percent," said Norrod, referring to licensing fees of popular virtualization solutions such as VMware being based on the number of sockets, not the number of cores.
As market trends shift from scale up to scale out, and from virtualization to widespread use of containers, Norrod said he sees ample opportunities for the core-strong Epyc processor. He believes this could allow AMD to dislodge Intel in the data center market, pointing to an IDC study that pegged a typical four-year deployment as consisting of 96 dual socket 2U servers with around 1,900 cores, and running on Intel Xeon E5-2660v3 processors.
To illustrate its claim that a single socket Rome processor can beat a dual socket Intel system - a point reiterated multiple times throughout the conference - the AMD team ran a demonstration pitting a pre-production single-processor Rome system with a dual socket Intel system equipped with Xeon chips, on the C-Ray benchmark. And indeed, AMD's system completed the benchmark around ten percent faster.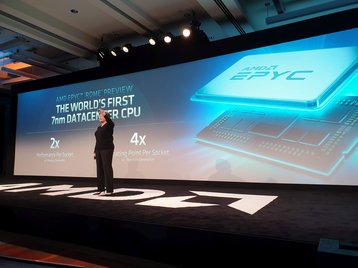 We're here to stay
For now, AMD is on track launch Rome in 2019, Milan is under development, and Zen 4 is in the design phase. It comes as no surprise that AMD is keen to highlight its product roadmap given that the adoption of Epyc hinges on market confidence in the chip company.
Norrod acknowledged this when he spoke to DCD last year.
As a niche player seeking to break Intel's domination of the data center market, AMD has the advantage of not needing to segment the market to avoid cannibalizing chip sales from related SKUs.
Dr Lisa Su, AMD's CEO alluded to this when asked about Epyc's performance to price compared to its rival.
She said: "the data center is evolving. The workloads that drive computing are changing. Whether machine learning or artificial intelligence, cloud environments, virtualization, or high-performance computing, there is an incredible need for more computing horsepower. And the workloads are different – different from the workloads of 10 years ago. As a result, the computing has to be different."
"AMD is totally committed to the data center. We are here to stay, we are here to lead."